Here we will be looking at 4-week online courses for medical coding and billing, but before then let's get to understand what medical coding and billing is all about through some of the few question that has been answered below.
Out there we have many other professionals in the medical field apart from the doctors and nurses we all know, there are other medical practitioners like medical coders and billers.
A must-read; 20+ Best 2-Week Certification Programs Online that Pay Well
Who is a medical Coder?
A medical coder is in charge of translating details from a patient's medical documents, including physician's notes, lab reports, diagnoses, and procedures, into versatile medical codes to keep accurate medical records or universal medical alphanumeric codes.
What is Medical Coding?
Some might still want to know what medical coding is all about even though we have talked about what a medical coder is; Medical coding can primarily said to be the process of collecting or taking a patient's health care information or details such as diagnosis, medical procedures, necessary medical equipment, and medical service information from physician's notes. Coursera.
A must-read; 30+ In-demand 4-6 Week Certificate Programs Online-Offline That Pay Well in 2023
What are the primary responsibilities of a medical coder?
There are many responsibilities for a medical coder, one of the primary responsibilities of a medical coder is to ensure that the medical records you transcribe and the codes you use are accurate.
Other responsibilities include;
Conducting chart audits 
Collecting, researching, and filing patient medical information
Ensuring all documents are grammatically correct 
Transcribing patient information into appropriate medical codes 
Examining medical documents and records for missing information
Complying with medical coding guidelines and policies 
How to become a medical coder?
You will be thinking that for you to become a medical coder, you must have previous experience in medical coding, I am here to tell you that you were wrong all this time. However, as many professional certification programs require at least 1-2 years of professional work experience, this means might consider applying for positions like billing assistant by so doing you will gain indirect insight into the medical coding process.
Here are the steps to becoming a medical coder
Firstly, You have to meet the basic prerequisites
Secondly, Make sure you complete medical coding training and obtain your medical coding certification
Thirdly, After you completed and secured certification in medical coding, now you have to up your medical coding skills to meet the job market demand.
Lastly, After you are done with all of the above you have to get a job (Look for a Job)
How long does it take to become a medical coder?
Becoming a medical coder doesn't take much time like so many other certification programs and it can be completed online as well.
For an individual going for an associate degree, it may take you 2 years to become a medical code, while it might take 9 to 20 months to become a certified medical coder.
But in this particular article, we are talking about becoming a medical coder in just 4 weeks.
Places where medical coders can work
Here are some of the places where you can work as a professional medical coder;
Consulting services
Government agencies
Hospitals and clinics
Insurance companies
Remote work
How much does a medical coder earn?
A medical coder working in the United States earns an average sum of $46,660 yearly/$22.43 per hour.
Medical Coding VS. Medical Billing(Coursera)
Medical coding differs from medical billing in that medical billing deals with financial transactions between insurance carriers and health care providers. A medical biller is responsible for processing insurance claims, generating bills, and managing balances and payments for health care providers.
Medical coding, on the other hand, only pulls billing information and details from a patient's record to translate into medical coding. So, while both professions deal with medical records, they are entirely different jobs. 
Who is a Medical Biller?
A medical professional who is in charge of managing the administrative responsibilities of billing insurance and processing payments for clients is known as a medical biller. Medical billers process services brought in by patients and submit claims to insurance companies, they also follow up on these claims to ensure it is processed and paid on time.
What is Medical Billing?
Medical billing is simply the process of generating healthcare claims to submit to insurance companies to receive payment for medical services offered by providers. Medical billing and medical coding tends to have much clear difference but they somehow have related processes.
What are the primary responsibilities of a medical biller?
These people are in charge of preparing and submitting billing data and medical claims to insurance companies
Just like the medical coder they also ensure that each patient's medical information is accurate and up-to-date
Preparing bills and invoices and document amounts due to medical procedures and services
They review and complete all the documentation concerning insurance billing and payments
They also help patients set up payment plans, call insurance companies to discuss discrepancies in payments, and answer insurer and client's questions about assigned account
Types of Medical Billing
There are two types of medical billing which are;
Front-End Medical Billing

Pre-registration
Insurance Eligibility Verification
Point of Service Collections
Encounter Form Generation
Checkout

Back-End Medical Billing

Charge Entry
Claim Generation
Claim Scrubbing
Claims Forms
Claim submission
Claim Tracking
Payment Posting
Patient Payments
Denial Management
A/R Collections
Credit Balances
Front-end medical billing takes place before any patient will have to see the doctor. In contrast, the back-end medical billing staff focuses on claims management and reimbursement.
How to become a medical Biller?
Becoming a medical biller is very easy than we all think, medical billers can also work from home. Now let's look at the essential things you need to do if you want to become a certified medical biller.
First, you need to determine if Medical Billing suits you, choose an in-person or online medical billing training program, fulfill CPB essentials and education requirements, study for the CPB exam, secondly, take the CPB certification Exam, network with your peers, and lastly get your first medical billing job.
How long does it take to become a medical biller?
Becoming a medical biller might not be to challenging as university courses, but most people will want to know how long it takes to bag a medical billing certificate, here is the answer; most medical billing courses only include 40-80 hours of coursework, which can be completed within 3-4 weeks.
You can decide to get it done within a few weeks or as long as you want to.
Where Can A Medical Biller Work?
Working place of a medical biller is just the same as that of a medical coder;
Hospitals and Clinical Practices
Health Insurance Companies
Law Firms
Public/Government Agencies
Work from Home
How Much Does a Medical Biller Earn?
When it comes to medical billing your experience, skills, certification, and capacity determine your earnings whether monthly or yearly.
A medical biller's average salary in the United States is $66,444 but ranges from $57,607 and $76,604 according to Salary.com.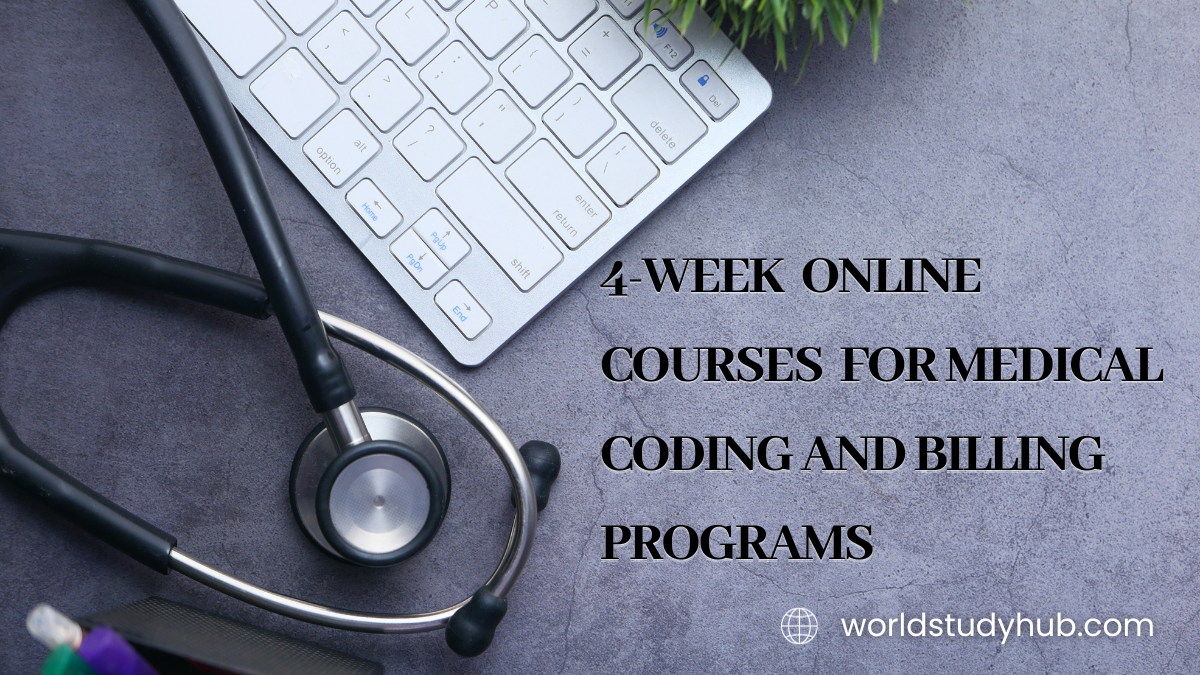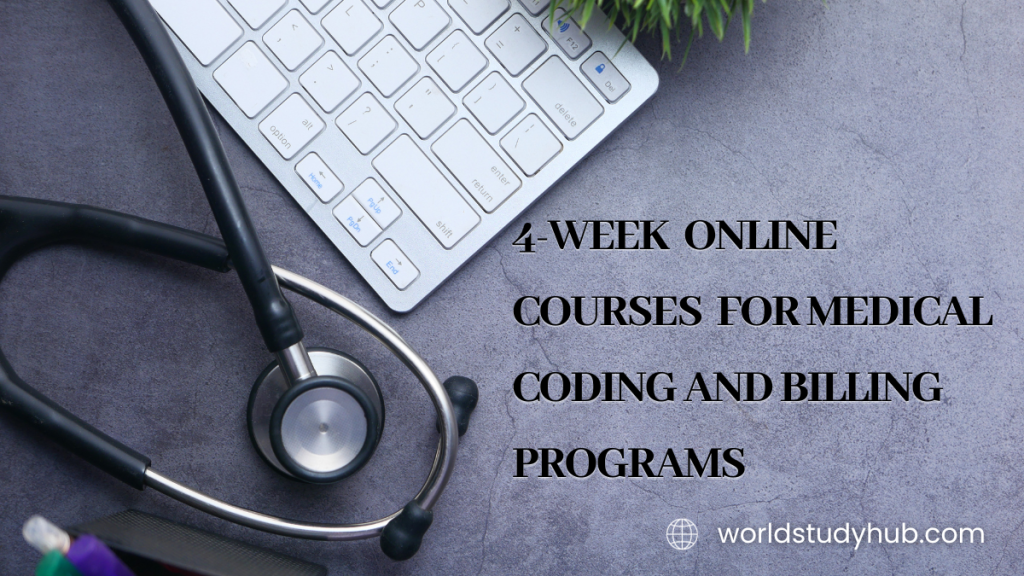 4-Week Online Courses for Medical Coding and Billing
There is only one website and one 4-week online course for medical billing and coding programs.
Are There 4-week Online Courses for Medical Coding and Billing Programs?
Yes! there is a 4-week online course for medical coding and billing programs, this course is offered by Medicalbillingcourse.com.
The program is offered 100% online, it has 9 chapters, study guides, videos, and examinations. This course tends to last for 3-5 weeks according to the course provider.
Course Details
Medical Billing Certification Course (CMBP)
4-6 Week, Self-Paced
$699.95 One-time payment ($100 Discount or $799.95 per month $159.99)
100% Online
9 Chapters and Study Guides
Not Accredited
CMBP, HIPPA, P2 CMPB Certification and Student Transcripts Mailed Upon Completion
  customerservice@medicalbillingcourse.com
https://www.medicalbillingcourse.com/medical-billing-course-program-p1/
Accelerated Online Courses for Medical Coding and Billing
Online Medical Coding and Billing Professional Training Program
Recommendation