This is a well-compiled list of Private Universities in Lagos, school fees, and locations. Lagos State has 9 private universities owned by individuals and some owned by churches and organizations. In this article, you will get to know more about these universities and where exactly they are located in Lagos.
You ask these questions, what are the best private universities in  Lagos? Can you afford to study there? Read ahead as we explain to you all about Universities in Lagos state Nigeria.
The ultimate goal of a university is the acquisition, conservation, dissemination, and application of knowledge. What distinguishes one university from another is the way the goal is pursued.
Are you staying close to Lagos State? Do you ask this kind of question, What are the best private universities in Lagos state?  Well if you are one of those, I have compiled for you the list of private universities located in Lagos State.
So relax your mind, and read these posts one by one to ensure you grab all you need. I will not only list the private universities in Lagos, but I will also include their school fees and other relevant information. I hope that after reading this post you will be able to get all the information you need about the private universities in Lagos State.
Private Universities in Lagos, School fees, and location
Currently, 9 private universities have been recorded in the streets of Lagos State, and most of these universities are owned by churches and organizations.
Anchor University, Ayobo Lagos.
Christopher University Mowe.
Southwestern University Ikeja.
Redeemer's University, Mowe.
Pan-Atlantic University Lagos.
Caleb University Lagos.
Babcock University.
Augustine University.
Maranatha University
1.  Anchor University, Ayobo Lagos
Anchor University is a private Christian university owned and managed by the Deeper Christian Life Ministry. This University was founded in September 2014 to raise young men and women who are academically sound and spiritually vibrant for the nation and world at large.
This campus was built to raise men who will stand out anywhere and everywhere, They are also primed to reflect outstanding spiritual powerless wherever they go.  Anchor Unversity was created not only to focus on academic learning and excellence but to harp on character development and mitigate the tide of moral degradation and delinquency that pervades our national life.
Being one of the private universities in Lagos, Anchor is a unique university born in due time to address the gaps in quality education in the country and beyond. Their vision is to be the citadel of learning for holistic human transformation
Faculties
Faculty of Natural and Applied Sciences
Faculty of Management and Social Science
Faculty of Humanities.
 Location
The university is located in Ayobo, Ipaja, Lagos State, Southwestern Nigeria.
2. Christopher University Mowe
Christopher University was approved by the  Federal Government as a private University on February 25, 2015, and licensed by the National Universities Commission (NUC) to begin academic activities on Match 5, 2015. The mission of this great university is to create a specialized institution committed to pursuing academic innovative, skill-based training and a tradition of excellence in teaching and with private sector participation.
This campus is very conducive and offers courses leading to officially recognized higher education degrees such as bachelor's degrees in several areas of study. Christopher University is a private education institution located in the large city of Mowe (population range of 50o0,000-1,000,000 inhabitants), Ogun state.
Check out some "useless courses to study in Nigeria"
UNICHRIS is one of the private universities in Lagos Nigeria that offers diverse undergraduate programs. Christopher University's school fees go from N400,000 to N500,000 and it provides accommodation for its students and other infrastructures like a library and a good college environment and building.
Acceptance Fee: 20,000Naira
 Faculties
school of business studies.
school of Humanities
School of Social Sciences
School of Science and Technology.
Location
Christopher University is located in Mowe, Ogun state Nigeria. 
3. Southwestern University Ikeja
This is another popular university among the private universities in Lagos that is devoted to excellence in teaching, learning, researching, and developing leaders in many disciplines who will make a difference globally. The university is also committed to producing morally sound students. Southwestern University's school fees range from N200,000 – N300,000 and provide accommodation facilities for its students and other infrastructure.
Southwestern University was established in  2012 to teach its students character and excellence, Southwestern University also encourages its, students, to be entrepreneurs in different fields and industries. The university is very affordable for a private University. Also one of the lowest cut-off marks is 120.
Admission into this university is not competitive compared to other private universities in Ogun state and public universities in Nigeria. The university offers bachelor's degrees in courses cutting across Sciences, technology, Arts, Social and Management sciences, etc. A private university with no religious affiliation thus fosters student diversity as students are admitted irrespective of their religious or cultural backgrounds.
Faculties
Pure and Applied Sciences
Social and Management Science
Post Graduate School
Faculty of Science
Faculty Social Sciences
Faculty of Administration and Management
Faculty of Basic Medical Sciences
Faculty of Law.
Location
Southwestern University is a private university located in the Southwestern part of Nigeria. The Main Campus is located at KM 20, Sagamu – Benin Expressway, Okun Owa, PMB 2088, Ijebu- Ode, Ogun state.
4. Redeemer's University, Mowe.
This university falls among the best private Universities in Lagos because it is a place where your hidden talent will be discovered, and your known talents fine-tuned so that you will become an embodiment of the gift, a brilliant, capable, and endowed person, who will go out to positively impact the entire world at large.
As you go through the pages of our prospectus, you will see that we provide the basic and traditional education in our range of subjects in the Colleges of Humanities, Management, and Natural Sciences, our first three Colleges.
We will use these foundation Colleges to prepare for the establishment of the following Colleges – Engineering, Law, and Education scheduled to be established during the second phase of the development of  RUN.  The final and third phases will see the establishment of the Colleges of Health Sciences, Agriculture, and Veterinary Medicine.
We are proud of the quality and depth of the courses we offer, which are nationally accredited. There is no doubt that the experience at Redeemers University Nigeria will assist you in achieving your goals.  At RUN, the Alumni Office follows your progress throughout life, because we believe that our family relations should and must last forever.
Immediately after a student's admission into this institution, the student is required to pay the first-year admission fee which is N144,000 and N166,500 for males and females respectively.
Faculties
Faculty of engineering
Faculty of Environmental Sciences
Faculty of Law
Faculty of Basic Medical Sciences
Faculty of Management  Sciences
Faculty of Social Sciences
faculty of Humanities
College of Postgraduate Studies.
Location 
Redeemer's University is located in Mowe, Ogun, Nigeria'
Address: 138 Mowe Market Rd, 110113, Loburo.
5.   Pan-Atlantic University Lagos
Pan-Atlantic University(PAU) has a locally and internationally well-earned reputation, as an institution that provides world-class education. They made it compulsory that in the course of 200lvl, you will be in an entrepreneurship course that would enable you to team up with other students to implement good innovative business ideas and you will be given small capital to start up your business.
Furthermore, PAU has developed the required skills and values over many years of offering professional development programs to many communication professionals and business executives. The university is developed in close collaboration with professional bodies and industry leaders.
Being one of the best private universities in Lagos PAU is now committed to developing these skills and values towards helping you lay a sound and strong foundation for your professional career. You will receive a personalized education "you will have a personal faculty adviser throughout your stay on this campus". In this way, you have a full opportunity to participate and lecturers can see whether you are learning.
About a third of your study time will be dedicated to the liberal arts/humanities, The aim of this is to help broaden your culture and improve your ability to engage in critical thinking. After all of this, you will be afforded the liberty necessary to enable you to freely internalize good values. Thus empowered, to make decisions and to be accountable for those decisions.
Acceptance Fee: 250,000 Naira
Faculties
School of Media and Communication
School of Management and Social Sciences
School of Science and Technology
Lagos Business School.
Location

Pan-Atlantic is located at Lekki-Epe, Lagos.
Address: Main Campus Km 52, Lekki-Epe Expressway (Near Eleko Beach Junction), Ibeju-Lekki, Lagos.                                            
6.   Caleb University, Lagos
Caleb University is a faith-based institution envisioned to be a center of excellence through the provision of opportunities for respectable, highly qualitative, and relevant university education that will engender the production of future leaders imbued with ability and integrity capable of impacting positively their environments while also being globally competitive.
Caleb University started with the College of Pure and Applied Sciences and its 4 departments and 11 degree programs, and the College of Social and Management Sciences and its  5 departments and degree programs, commenced the full academic program with the admission of its first set of students, a total of 85 male and 58 female students on Monday, January 21, 2007.
Caleb University is one of the first among all the private universities in Lagos to start a bachelor's degree-awarding in Lagos state, rapidly followed up with the issuance of an operating license by the Federal Ministry of Education through the National University Commission (NUC) on May 17, 2007, for Caleb University to operate as a private university. Africa's best private university in Research and Entrepreneurship Development.
Acceptance fee: 10,000 Naira.
Faculties
College of Pure and Applied Sciences
College of Arts, social and management sciences
College of Postgraduate Studies
College of environmental sciences and management
College of Education
Location 
KM 15,Ikorodu-Itoikin Road, Imota Lagos.P.M.B.21238,Ikeja, Lagos
KM 15, Ikorodu-Itoikin Road, Imota Lagos.
P.M.B. 21238,Ikeja, Lagos.
7. Babcock University, Lagos
This university is a faith-based Educational institution that integrates the totality of the Christian faith side by side with the academic program. we make a positive impact by training our students such that their lives reflect Christ and make them act as change sticks in their communities by preventing all forms of violence and corruption
we promise that quality education should be affordable and accessible to parents and guardians who so wish to enroll their children in our campus. Fully accredited programs by Nigeria University. Since its inception, there has been no record of unionism or any occult protest or demonstration, this is because the institution does not allow this wrong doing or acts, our students having acknowledged god as their vine, seek him daily and recognize this as their essence of living. Babcock is proudly one of the best private universities in Lagos.
Acceptance Fee: 150,000 Naira
Faculties
Faculty of Education
Faculty of Humanities
Faculty of Management and Social Sciences
Faculty of Science and Technology
Faculty of Law and Security Studies.
Location
Babcock University is located at Ilishan-Remo, Ogun State, Nigeria equidistant between Ibadan and Lagos.
Address:Iju Ishaga Rd, Ifako Agege 101232, Lagos. 
8. Augustine University, Lagos 
Augustine University is mentioned as one of the best private Universities in Lagos, the university upholds the noble tradition of Catholic higher education of achieving intellectual, cultural, and moral excellence by preparing students for leadership and enterprise. This university was licensed to start up on 5th March 2015 and inaugurated on 23rd October 2015.
Awesome a new university with all the trappings of a great citadel shortly, the landscaping is good. The building is well-spaced and laid out. Irara, the host community is in for greater things to come and it has a pleasant environment and academic campus. Augustine University has a very greenish background which is for sports and health. Nice and calm environment. Good ambiance for learning.
AUI Library boasts a large collection of books spanning 5,723 titles in over 15,000 volumes of processed materials; with about 10,000 volumes undergoing processing. A robust E-Library with access to well over 30 databases locally and internationally. Their Novel is awe-inspiring with 10,000 novels. Access to lectures, webinars, and other activities is pride in the AUI library
Acceptance Fee: 40,000 Naira
Faculties
Faculty of Science
Faculty of Humanities
Faculty of Management and Social Sciences.
Location
This campus is located along Igbonla Road in Ilara-Epe, Epe Local Government Area of Lagos State.
Address: Igbonla Road, 106103, Epe.
9. Maranatha University Lagos
Maranatha University also appears to be one of the newly founded private Universities in Lagos State, the university has two campuses which are located at Okota and Ibeju Lekki, Lagos State.
This university was founded and licensed in 2021(licensed by the Federal Government of Nigeria) with the vision to raise world-class graduates with Godliness in their various programs, and also a mission to provide innovative academic programs and equip individuals with high-paying entrepreneurial skills, Maranatha university is a privately owned Christian institution.
Maranatha University not only being a faith-based university, but it also offers scholarships in some programs which include Architecture, Industrial Chemistry, and 6 others. The university has 20 programs across 4 faculties accredited by the National Universities Commission (NUC).
Acceptance Fee: 50,000 Naira
Accommodation: 100,000 Naira
Visit the link to find out their school fees and also note that their school fees can be paid instalmentally.
Faculties
The Faculty of Arts, management, and social sciences 
Faculty of Natural and Applied Sciences. 
Faculty of Environmental Sciences. 
Faculty of Engineering.
Location
Maranatha University's main campus is located at Lekki-Epe Expressway, Ibeju-Lekki, Lagos. Their second Campus is located at Elim Close. Off Okota Road. Okota. Lagos.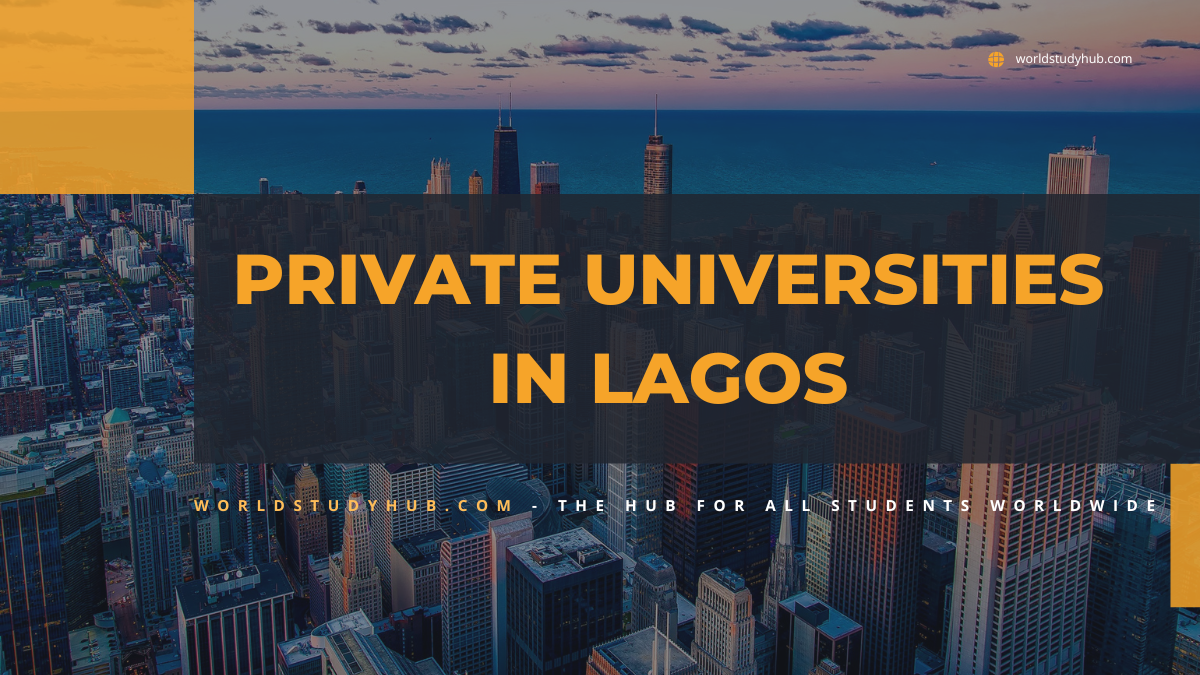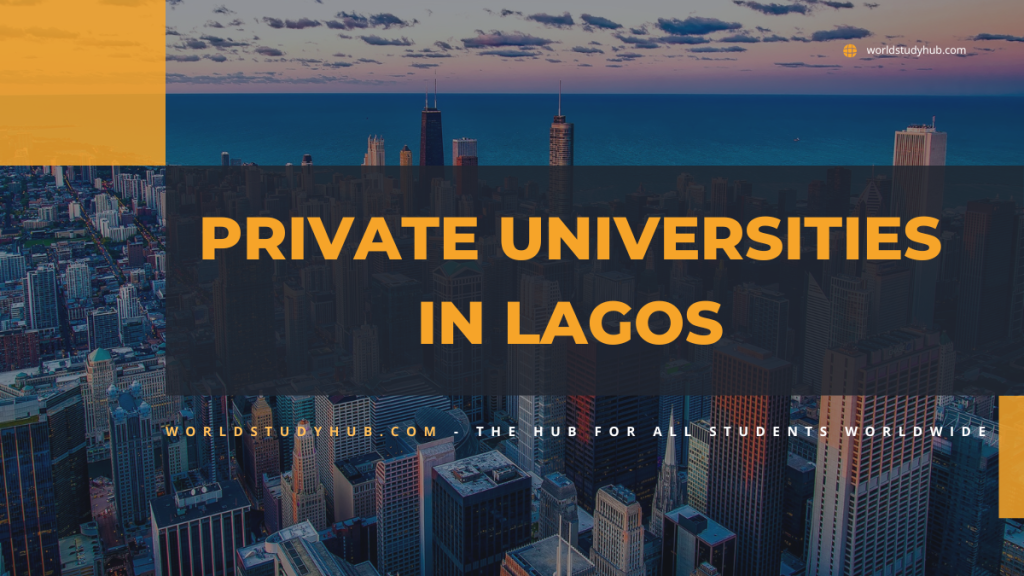 Conclusion
The above-listed schools are the currently existing private universities in Lagos state today according to research and findings by WORLD STUDY HUB.
Please help us share this post through the sharing buttons below, Remember there is love in sharing God bless you as you help us.
Recommendations
10 Cheapest Universities in the USA without IELTS
10 Cheapest Universities in Europe Without IELTS
Best 10 Medical Universities in Australia for International Students
10 Cheapest Universities in Norway Without IELTS in 2023
10 Cheapest Universities in New Zealand without IELTS
10 Best Canadian Universities without Application Fees
10 Cheapest University in Canada Without IELTS and Application Fee