Due to its many health advantages, massage therapy is a healing art that has become more popular on a global scale. Finding the cheapest massage therapy schools can be a critical step towards realizing your goals, whether you want to pursue a profession in the area or you just want to improve your knowledge and abilities.
A popular and successful holistic strategy for boosting health and well-being is massage therapy. The need for licensed massage therapists is gradually rising due to massage's many advantages, including stress relief, pain relief, and relaxation. Schools that specialize in massage therapy are essential for equipping future practitioners with the knowledge and abilities they need to start rewarding careers in this industry.
This article provides an overview of the cheapest massage therapy schools available worldwide, highlighting the nations and metropolitan areas where students can earn a great education without breaking the bank.
Sit back and relax as we unfold what we have for you.
What is a Massage Therapy School?
A massage therapy school is a type of educational facility that focuses on giving people who want to work as professional massage therapists thorough training and instruction. These institutions provide a structured curriculum that integrates academic theory with real-world application. They seek to give students the fundamental know-how, methods, and comprehension of the human anatomy required to perform efficient massages.
A variety of courses are offered by massage therapy schools with the goal of giving students a firm grounding in kinesiology, pathology, and anatomy. Thanks to these foundational subjects, students can develop a thorough awareness of the human body's structure, function, and major diseases. The several types of massage techniques taught to students also include Swedish massage, deep tissue massage, sports massage, and reflexology. For the purpose of preparing students for the practical aspects of their future employment, the curriculum may also include subjects like ethics, company management, and client communication.
Schools for massage therapy place a strong emphasis on practical training in addition to theoretical study. Students have the chance to put their studies into practice in well-monitored clinical settings, where they receive practical experience by massaging actual customers. Students may hone their skills, establish a professional manner, and learn how to modify their approach to suit the demands of various clients thanks to this practical component of their study.
How to Find Cheap Massage Therapy Schools Near You
While selecting the cheapest massage therapy schools is important, it is equally critical to confirm that the school is trustworthy, accredited, and delivers quality education that meets the requirements for licensing or certification in your area.
You can use the steps below to find cheap massage therapy schools near you:
Search local directories and websites for listings of colleges, vocational institutions, and other educational institutions in your area. These directories usually provide details on the courses in massage therapy that they offer.
Conduct an internet search by using search engines like Google or Bing to start your online search. Include your region or city name along with keywords like "cheap massage therapy schools" or "affordable massage therapy schools."
Make contact with local community colleges or vocational institutions and enquire about their massage therapy programs. Inquire about the tuition costs, any available financial aid, and whether any special rates or scholarships are available.
Examine alternatives for massage therapy programs that may be taken online or via distance learning. Online programs occasionally cost less than conventional on-campus ones. Make sure the online school is accredited and satisfies the prerequisites for certification or licensure in your area.
Speak with organizations or groups dedicated to massage therapy in your nation or region. They might have knowledge of cost-effective massage therapy colleges with accreditation. They can also offer advice on where to go for financial aid or scholarships.
Ask friends, family members, or acquaintances who may have attended massage therapy colleges for suggestions. They might be aware of budget-friendly choices or have connections to others who can offer advice.
When you have a list of suitable institutions near you, evaluate their tuition rates, course offerings, program duration, and any other fees, that would further help you ascertain which is the cheapest to attend. Along with the price, take into account elements like accreditation, educational standards, and school reputation.
How to Become a massage therapist
Massage therapy is a fast-growing area that provides a fulfilling job for those who are interested in holistic health and assisting others. As a massage therapist, you can help people feel better by using touch and manual techniques to relieve tension, reduce discomfort, and promote relaxation.
A real passion for helping people, commitment, and education is necessary to become a massage therapist. You can start a rewarding career as a massage therapist by adhering to six crucial stages, from performing an in-depth study to getting practical experience and lifelong education. As you strive to enhance your clients' well-being through the power of touch, keep in mind to uphold the highest standards of professionalism, ethics, and client care.
If you want to pursue a profession in massage therapy, follow these steps to become a successful massage therapist.
Step 1: Research and fully understand the Profession
Before starting any career route, it's crucial to do extensive research to get a full understanding of the field. Learn about the different massage therapy modalities and methods, including Swedish massage, deep tissue massage, sports massage, and aromatherapy.
Find more about the advantages, restrictions, and possible risks related to each technique. Additionally, become familiar with the rules and laws that govern the practice of massage therapy in your region.
Step 2: Select a reputable Massage Therapy Program
Getting the right education and training is essential if you want to work as a massage therapist professionally. Choose a trustworthy massage therapy program or school that is accredited by well-known agencies after conducting research on them.
These programs include thorough instruction in anatomy, physiology, pathology, ethics, and practical skills. A diversified curriculum and opportunities for hands-on training through clinical practice or internships are something to look for in a school.
Step 3: Complete your education in massage therapy
Enrol in the massage therapy program of your choice, and finish the necessary training and curriculum. Depending on the nature and intensity of the curriculum, the program's duration might vary, often falling between a few months and two years. You will learn numerous massage techniques, anatomy, and physiology during your studies, and you'll get hands-on practice giving massages while being guided by trained experts.
Step 4: Acquire the certifications and licenses required
After completing your massage therapy school, you'll need to get the required certificates and licenses in order to legally practice. Depending on the jurisdiction in which you plan to practice, different criteria apply. Make sure you satisfy all requirements by doing some research on the local licensing laws. This can entail completing an application, passing a national or state licensing exam, and other prerequisites, like background checks or continuing education.
Step 5: Obtain Real-World Experience
It's crucial to get real-world massage therapy experience to hone your abilities and boost your confidence. Look for employment opportunities at spas, wellness centers, chiropractic offices, or other medical settings.
Additionally, many schools include internships or externships in their curriculum, which can give students useful hands-on experience. Utilize these chances to put your knowledge to use, pick up tips from experts, and refine your approach and method.
Step 6: Engage in Lifelong Education and career advancement
The discipline of massage therapy is dynamic and constantly changing as a result of new discoveries and studies. Participate in chances for lifelong education (continuing education) and career advancement to remain updated and improve your professional abilities.
To increase your expertise and stay up to date with industry trends, attend workshops, seminars, conferences, and advanced training courses. This dedication to lifelong learning will not only benefit your clients but also advance your professional development.
Top 10 Cheapest massage therapy schools
The top 10 cheapest massage therapy colleges in the world will be discussed in this article. These institutions make massage therapy education available to a wider range of people by providing high-quality instruction without imposing exorbitant tuition costs on students.
On the list, we have:
The number 1 on our list of the cheapest massage therapy schools is West Coast College of Massage Therapy. It stands as the leading institution for massage therapy education. WCCMT provides students with a thorough and fulfilling educational experience because of its broad curriculum, knowledgeable instructors, state-of-the-art facilities, and career assistance services. Aspiring massage therapists can confidently select WCCMT as their best school because they will receive excellent instruction that will position them for success in the massage therapy industry.
Since its founding, the West Coast College of Massage Therapy (WCCMT) has been offering massage therapy education of the highest calibre. WCCMT was established in 1983 and has campuses in New Westminster, Victoria, and Vancouver, and has since grown to become one of the most respected massage therapy schools in the world.
The Private Training Institutions Branch (PTIB) in British Columbia has accredited WCCMT, indicating that the college adheres to high academic standards.
The college provides thorough massage therapy programs that are created to give students the abilities and information they need to thrive in their vocations. Numerous massage modalities, such as Swedish massage, deep tissue massage, sports massage, myofascial release, and others are covered in the curriculum of the WCCMT. Along with these topics, students study ethics, anatomy, physiology, and pathology to provide them with a strong foundation in the subject.
The curriculum at WCCMT is designed to strike a balance between theoretical knowledge and real-world experience. There are many opportunities for students to put their abilities into practice in a controlled clinical setting, obtaining useful hands-on experience with actual customers. Their confidence is boosted and they are more equipped to handle the demands of a professional massage therapy profession thanks to this hands-on training.
The instructors on the faculty at WCCMT have years of experience, are extremely competent, love to teach, and are well-versed in massage therapy. They provide a wealth of knowledge and practical experience, giving students the chance to study under experts who are still working in the field. The faculty's commitment to offering individualized attention and assistance throughout the educational journey demonstrates their commitment to the achievement of their students.
Modern facilities and resources are available to students at the West Coast College of Massage Therapy to improve their educational experience. The campuses are furnished with top-notch classrooms, practice areas, and cutting-edge massage therapy clinics where students may put their knowledge into practice while being supervised by skilled professionals. These settings provide a working setting that simulates real-world practice and aids students in making a smooth transition into the workforce.
WCCMT understands how important it is to assist students in starting successful careers in the massage therapy industry. The college offers assistance with finding a job, networking opportunities, and access to resources for the field. Students have the chance to gain real-world work experience and build contacts with professionals through collaborations with neighbourhood healthcare facilities, spas, and wellness centres
The Central Florida School of Massage Therapy was founded in Orlando, Florida, and is well-known worldwide as one of the cheapest massage therapy schools. The CFSMT has been dedicated to offering top-notch massage therapy education since its founding in 1994. The university has an institutional affiliation with renowned organizations including the American Massage Therapy Association (AMTA) and has received accreditation from the Commission for Independent Education (CIE). This accreditation guarantees that the institution upholds ethical standards and adheres to them.
The Central Florida School of Massage Therapy provides students with a thorough education that equips them with a rewarding profession in massage therapy. Swedish massage, deep tissue massage, sports massage, myofascial release, and neuromuscular therapy are just a few of the many massage modalities covered in the program. Anatomy, physiology, pathology, ethics, and business practices are also covered in the curriculum to give students a comprehensive understanding of what they are studying.
The CFSMT acknowledges the value of hands-on training in massage therapy education. Through intensive clinical training, students at the Central Florida School of Massage Therapy acquire practical experience. Students have the chance to work directly with customers while being supervised by professional instructors at the school's on-site massage clinic. In addition to honing their massage techniques, this hands-on training gets them ready for the difficulties of actual practice.
The Central Florida School of Massage Therapy is aware of the various needs of its students and provides flexible scheduling alternatives. The school offers both full-time and part-time programs, giving students the choice to select the one that best suits their needs and obligations. This flexibility enables people to follow their passion for massage therapy without jeopardizing their current obligations, such as work or family obligations.
When it comes to massage therapy, Cortiva Institute stands as one of the top ranking cheapest massage therapy schools worldwide.
The Cortiva Institute, which was established in 1977, has a long history of providing top-notch massage therapy education. Cortiva Institute has made a name for itself as a top provider of massage therapy education, operating many campuses across the country, including ones in Florida, Arizona, Massachusetts, and Pennsylvania. The institution has received accreditation from the Commission on Massage Therapy Accreditation (COMTA), demonstrating that it upholds the industry's highest standards for teaching and professional conduct.
The faculty at Cortiva Institute is made up of skilled massage therapists that are committed to the success of their students. These instructors ensure that students receive excellent training and mentoring by bringing a wealth of real-world experience and knowledge to the classroom. The instructors at Cortiva Institute are dedicated to raising the next generation of knowledgeable and caring massage therapists who are passionate about the practice of massage therapy.
The renowned London School of Massage which is globally recognized as one of the cheapest massage therapy schools is located in London, a centre of cultural diversity and academic brilliance. The university has a reputation for turning out massage therapists who are extremely talented and informed because to its dedication to offering top-notch massage therapy education.
In terms of massage treatment education, the London School of Massage has a long history. The school was established in 1994 in the centre of the nation's capital and has always been dedicated to excellence. It is accredited by respected bodies like the Massage Training Institute (MTI) and the Complementary Medical Association (CMA), guaranteeing that students obtain the best education possible and uphold professional standards.
The London School of Massage is committed to helping graduates establish lucrative jobs in the massage therapy field. In order to help students connect with possible employers and professionals in the sector, the institution provides career counseling, support with job placement, and networking opportunities. These tools are essential for ensuring a seamless transition from the classroom to professional practice, allowing graduates to start rewarding careers as massage therapists.
This institution is considered as one of the cheapest massage therapy schools and is a prestigious institute that has attracted attention for its dedication to offering holistic education in the massage therapy industry. NHI provides extensive programs that integrate conventional massage techniques with a holistic approach to health and wellness with a focus on developing well-rounded practitioners.
The National Holistic Institute has a long history in the field of massage therapy education and was founded in 1979. It has developed over the years into one of the most respected and cheapest massage therapy schools in the US and worldwide, with numerous campuses spread throughout California. NHI's programs adhere to the highest standards of professionalism and quality because of its accreditation from the Accrediting Bureau of Health Education Schools (ABHES).
The National Holistic Institute's massage therapy curriculum is created to give students a well-rounded education. Students study complementary modalities like Shiatsu, reflexology, aromatherapy, and energy work in addition to fundamental massage methods like Swedish, deep tissue, and sports massage. Students can gain a wider perspective on health and wellness thanks to the incorporation of these holistic techniques, which equips them to provide thorough therapies to their patients.
The National Holistic Institute stands out for its dedication to a holistic method of wellness. The program stresses the mind-body connection, self-care, and fostering general well-being in addition to the technical aspects of massage therapy. Students gain knowledge about the value of individual wellness and how massage therapy may promote harmony, relaxation, and stress relief. Students who adopt this holistic viewpoint are better prepared to become competent professionals who can meet the demands of their clients on various levels.
In the area of massage therapy education, The Massage School of Queensland has a solid reputation and among the top cheapest massage therapy schools. It was founded in Queensland, Australia in the year 1988 and has always been at the forefront of delivering top-notch education. The institution is acknowledged for its adherence to industry standards and ethical procedures and has accreditation from renowned organizations like the Australian Skills Quality Authority (ASQA).
The Massage School of Queensland's faculty is made up of highly qualified and experienced massage therapists. These instructors bring a plethora of real-world experience, knowledge, and enthusiasm to the classroom, giving students insightful advice and guidance. They are committed to encouraging the growth and development of aspiring massage therapists by establishing a welcoming and interesting learning environment.
The Myotherapy Massage College of Utah is a prominent institution and one of the cheapest massage therapy schools committed to offering top-notch education in the myotherapy sector. The college, which is based in Utah, USA, and founded in 1987 has built a solid reputation for its thorough curriculum, knowledgeable professors, and dedication to creating knowledgeable and skilled myotherapy practitioners.
The Myotherapy Massage College of Utah has a distinguished history in the myotherapy education industry. The college has made a name for itself globally as a top school thanks to its unwavering dedication to excellence. It adheres to strict criteria to guarantee the best education for its students and holds certification from recognized organizations like the Commission on Massage Therapy certification (COMTA).
The Myotherapy Massage College of Utah stands out for its focus on myotherapy. The college is aware of the special advantages myotherapy has for patients, especially in treating chronic pain, musculoskeletal imbalances, and postural problems. The college guarantees that students obtain in-depth information and training in this specialized subject by focusing its curriculum on myotherapy, giving them the tools they need to succeed as myotherapy practitioners.
The Ong's Thai Massage School is an esteemed institution and among the cheapest massage therapy schools devoted to preserving and disseminating the art of traditional Thai massage. The institution, which is based in Thailand, the country where Thai massage originated, provides extensive training programs that expose students to both the skills and the rich cultural legacy associated with this age-old healing practice.
The existence of Ong's Thai Massage School serves as evidence for the promotion and preservation of traditional Thai massage. The institution has strong ties to Thailand's cultural past, which places a strong emphasis on the healing arts of touch and energy balancing. The institution upholds the traditional methods, ideas, and philosophies of Thai massage with the utmost respect and precision out of a strong dedication to authenticity.
The Ong's Thai Massage School curriculum was thoughtfully created to give students a thorough understanding of traditional Thai massage. Acupressure, stretching, joint mobilization, and energy line balance are just a few of the techniques covered in the program. Along with the theoretical underpinnings and guiding principles of the discipline, students learn the complex sequences and exact motions used in Thai massage. The holistic approach to treatment that Thai massage embodies as well as knowledge of the body's energy systems are also covered in the curriculum.
A pioneer in holistic wellness education, the Southwest Institute of Healing Arts (SWIHA) provides a wide range of programs and courses to support students on their path to personal and professional development. SWIHA, which is based in Arizona, and was founded in 1992 and recognized as one of the cheapest massage therapy schools worldwide has won praise for its extensive curriculum, qualified faculty, and dedication to fostering students' proficiency in a range of healing arts techniques.
An extensive and varied curriculum is provided by the Southwest Institute of Healing Arts, including a variety of holistic wellness approaches. Programs in massage treatment, yoga teacher training, life counselling, holistic nutrition, energy healing, aromatherapy, and other fields are available to students. The course material combines academic understanding with real-world application to provide students with a comprehensive understanding of the healing arts. With a focus on a holistic approach, SWIHA invites students to explore the relationship between the mind, body, and spirit, offering a life-changing educational opportunity.
Okanagan Valley College of Massage Therapy was the first nationally accredited Registered Massage Therapy program in Canada and listed among the cheapest massage therapy schools worldwide.
In the stunning Okanagan Valley of British Columbia, Canada, lies the acclaimed Okanagan Valley College of Massage Therapy (OVCMT). OVCMT, which was established in 1994 with the intention of offering top-notch education and training in the field of massage therapy, has become a prominent institution globally and is renowned for its dedication to excellence and professionalism.
The OVCMT curriculum aims to give students a solid grounding in both massage therapy theory and practice. In addition to learning about the numerous modalities and techniques used in massage therapy, students also study human anatomy, physiology, and pathology. Additionally, students obtain a thorough awareness of professionalism, ethics, and client care, ensuring that they acquire the abilities needed to deliver safe and efficient treatments.
FAQs on the Cheapest Massage Therapy Schools Worldwide
how much does it cost to go to massage therapy school?
Programs for massage therapy can cost anywhere from a few hundred dollars to several thousand dollars. The program's duration can range from a few weeks to a year or longer. Compared to private universities, community colleges or vocational schools can provide more affordable possibilities. The price of tuition may be between $6,000 and $12,000 or more.
Are there any scholarships or financial aid options available for massage therapy programs?
Yes, there are financial aid and scholarship possibilities for massage therapy programs.
Can I work while attending a massage therapy program to help cover the costs?
Yes, working while enrolled in a massage therapy program can possibly aid with the cost of tuition. Many massage therapy programs are made to be flexible; this makes it possible for students to pursue full- or part-time jobs while still attending school.
Are there any part-time massage therapy programs available?
Yes, there are programs for part-time massage therapists. Many vocational schools and massage therapy colleges provide flexible schedule choices to suit students who might be working or have other obligations.
How much does the licensure exam cost for massage therapy?
The Massage & Bodywork Licensing Examination (MBLEx) is an exam created for people looking to become licensed massage therapists. On October 1, 2020, the test's registration cost increased to $265.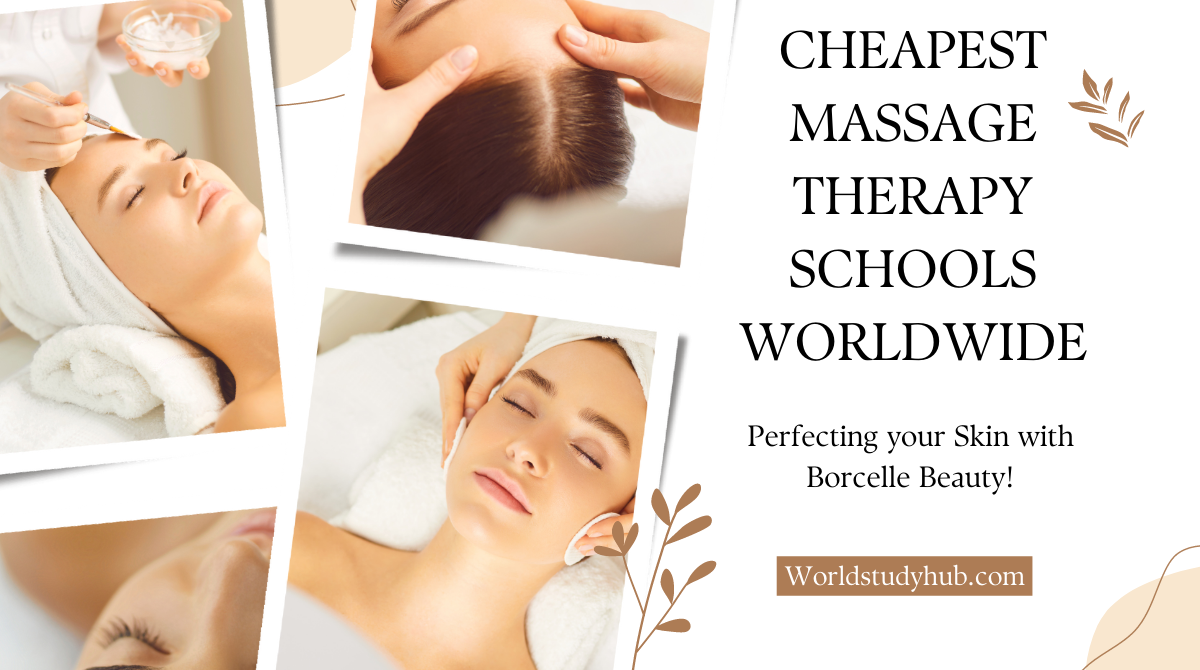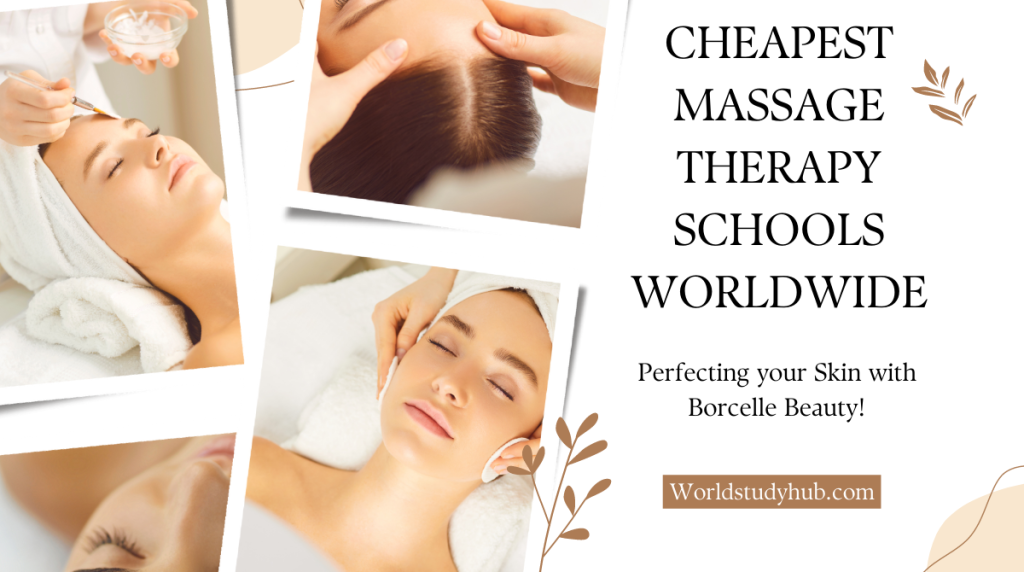 Conclusion
In conclusion, It's critical to strike a balance between affordability and quality when searching for the cheapest massage therapy schools. It is advised to conduct extensive research on the school, look over its curriculum, confirm its accreditation or recognition, and read reviews or student testimonials before enrolling in any program. Make sure the curriculum complies with all legal criteria for massage therapy practice in the desired region.
Recommendations
Cheapest University in Canada Without IELTS
Study MBBS in the Philippines | 2023
24 Best Short-Term Courses for Ladies or Housewives
Top Medical Universities in Australia for International Students
Best 3-6 month massage therapy program online 2023
.