I have written so many interesting articles in the past but, today I have personally brought to you the best Physician Assistant schools in South Carolina, these schools have been ranked by so many websites, researchers, and ordinary blogs as the top physician assistant schools in the whole of South Carolina.
These Universities or institutions are also some of the best physician assistant schools in the US as they tend to offer quality programs that will give their students the best insight, orientation, and courage to explore the job market and succeed.
The before we talk about these schools in question, let us get to know some little things that matter a lot, so many of us reading this article now wants to know who a physician assistant is. What do they do? while some of us want to know beyond that. Ok, let's answer some of the questions you have in mind.
Studying physician assistant as a student won't be boring as it appears to be the top #71 most popular course or program in the whole of the United States among others. Previously I have written some interesting articles that might be of your interest too such as Occupational Therapy Assistant Programs Online, Occupational Therapy Graduate Programs, Best Massage Therapy Schools in New York & Scholarships, and other accelerated certification programs like;
10 Best Online Music Certificate Programs
20+ Best 2-Week Certification Programs Online that Pay Well 2023
30+ In-demand 4-6 Week Certificate Programs Online-Offline That Pay Well in 2023
10 Best 6-Month Certificate Programs Online That Pay Well
Who is PhysicianAssistant?
Physicians are not doctors, they are advanced degree holders, they are licensed medical professionals who have every right to provide direct medical care to a patient in the absence or presence of a doctor.
What is the work of a Physician Assistant?
Due to the lack of healthcare specialists, Physician assistants have today become a critical part of the healthcare team, these individuals play a vital role in increasing the adequate quality of healthcare, and they have made it easier for patients who are in critical condition but couldn't gain access to a doctor.
What are the Areas of specialization of a Physician Assistant?
Physician Assistants have the opportunity to feature in so many specializations in medicine, they are allowed to practice in one or a variety of areas throughout their careers.
ENT/Otolaryngology: According to Medicine, it is the study of diseases of the nose, ear, and throat, the ENT or Otolaryngologist specializes in the treatment of the head and neck system if they are affected, which includes ear pain, burning, leaking, and so on.
Anesthesia: This is simply the use of drugs or medicines to reduce pain or block pain during surgery, it is done to block pain impulses before transmitted to the brain.
Dermatology: This profession deals with skin, it is the study of skin and skin-related diseases, it also focuses on health issues concerning the mucous membrane, nails, and hair.
Cardiology: This is simply the structure, function, and disorder of the heart, it is a branch of medicine that has to deal with heart disorders and the cardiovascular system.
Emergency Medicine: This branch of medicine deals with the care of illnesses or injuries that requires immediate medical concentration.
Family Medicine: This is known to be the center of primary care, while other specialties have boundaries to a particular organ or disease, family physicians are professionals who specialized in treating a disease or sickness and also providing comprehensive health care for people of age ranging from a newborn to adults.
General Practice: This is also the same as a Family Medicine or Physician.
Internal Medicine: This set of individuals uses scientific experience and clinical knowledge to diagnose, treat, and give compassionate care to adults. This is simply the study, diagnosis, and treatment of conditions that affect the internal organs which includes diabetes, heart disease, hypertension, obesity, and lung disease.
Neurology: Neurology is the branch of medicine that deals with the infection of the nervous system including the brain and spinal cord.
Obstetrics and Gynecology (OB/GYN): This branch is concerned with the care of women during pregnancy and childbirth. While Gynecology deals with reproductive health and diseases specific to girls and women.
Radiology: Radiologists specialized in the branch of medicine that make use of imaging technology to determine diseases and also treat them.
Pediatrics: The study of pediatrics deals with everything concerning children's treatment.
Surgery: This involves the performance of surgical procedures like repairing, removing, or replacing a part of a body.
Here are some of the known specialty areas that a Physician Assistant can specialize in:
What are My Responsibilities as a Physician Assistant?
Although the duties of a Physician are determined and assigned by their supervisor and state law, here are some of the possible responsibilities of a Physician Assistant;
Assisting in surgery
Prescribing medications
Diagnosing illnesses
Making rounds and performing patient exams
Advising patients on preventative care and optimal health practices
Developing and managing treatment plans
Ordering and interpreting laboratory tests and X-rays
6 Best Physician Assistant Schools in South Carolina
Having said much about Physician Assistants now it's time to talk about the Best among the Physician Assistant Schools in South Carolina.
These schools that have been drafted out below are not arranged in any ranking order, as the ranking is like to be stated under each of the school's details.
1. University of South Carolina-Columbia
The University of South Carolina is One of the physician assistant schools in South Carolina, the school's physician assistant program was designed to help individuals who wish to further their career as PA, the school also offers a Master's Degree in Physician Assistant.
The school also makes sure that its students receive the best education. Their goal is to encourage professional involvement and interprofessional collaboration.
This University is one best decisions to make when planning to go for a physician assistant program in South Carolina, it is a public university located in the beautiful city of Columbia.
University of South Carolina School of Medicine PA Program
USC School of Medicine VA Campus
6311 Garners Ferry Road, Bldg 101
Columbia, SC 28208
803-216-3950
paprogram@uscmed.sc.edu
2. Medical University of South Carolina
The Physician Assistants that come from the Medical University of South Carolina's program are prepared to make a difference in their communities. They are ready to work in hospitals, clinics, and other healthcare settings.
The program started in 1976. Many talented and caring physician assistants come from this program. The university is in the middle of the historic city, it has great teachers and great buildings.
Medical University of South Carolina PA Program
College of Health Professions
151-A Rutledge Avenue, MSC 960
Charleston, SC 29425
843-792-3326
chpstusv@musc.edu
3. Francis Marion University
Francis Marion University offers a top-notch physician assistant program. Students learn practical skills and gain medical expertise from experienced faculty.
Graduates of Francis Marion University's physician assistant program are well-prepared for successful careers in healthcare. The program's commitment to excellence makes it an excellent choice for aspiring medical professionals.
The physician assistant program at Francis Marion University emphasizes hands-on training and real-world experiences. Through clinical rotations and internships, students have the opportunity to work directly with patients and experienced healthcare teams.
With a strong focus on practical skills and comprehensive medical knowledge, the program equips students with the necessary tools to become proficient and compassionate physician assistants.
Francis Marion University PA Program
4822 E. Palmetto St.,
Florence, S.C. 29506 | PO Box 100547
Florence, S.C. 29502
eshefton@fmarion.edu
4. Charleston Southern University
Charleston Southern University is one of the best physician assistant schools in South Carolina and it offers a top-notch Physician Assistant program designed to equip aspiring healthcare professionals with the skills and knowledge needed to excel in the field.
The program's comprehensive curriculum covers a wide range of medical topics, including anatomy, pharmacology, and clinical medicine.
In this school Professors are committed to helping each student reach their full potential, providing personalized attention and guidance throughout the program.
The emphasis on professionalism and patient-centered care ensures that students not only become skilled practitioners but also compassionate caregivers, embodying the university's commitment to excellence in healthcare education.
Charleston Southern University PA Program
9200 University Blvd
Charleston, SC 29406
843-863-7427
paprogarm@csuniv.edu
5. North Greenville University
North Greenville University's PA program not only focuses on academic excellence but also prioritizes a supportive learning environment. Students benefit from a close-knit community that fosters collaboration and mutual growth.
Graduates of the program have consistently demonstrated exceptional competence, making them sought-after healthcare professionals.
At North Greenville University, the Physician Assistant program places great importance on clinical rotations, allowing students to work closely with experienced healthcare providers in various specialties.
North Greenville University PA Program
405 Lancaster Avenue
Greer, SC 29650
864-509-8980
paprogram@ngu.edu
6. Presbyterian College
Presbyterian College's Physician Assistant (PA) Program is a renowned and comprehensive educational endeavor designed to prepare students for a rewarding healthcare career.
Upon completion of the program, graduates are well-equipped to sit for the national certification exam, making them eligible to practice as certified physician assistants.
Many Presbyterian College PA Program alumni have gone on to excel in various healthcare settings, ranging from primary care and emergency medicine to surgical things.
Presbyterian College PA Program
503 South Broad Street
Clinton, South Carolina 29325
864-938-3746
paprogram@presby.edu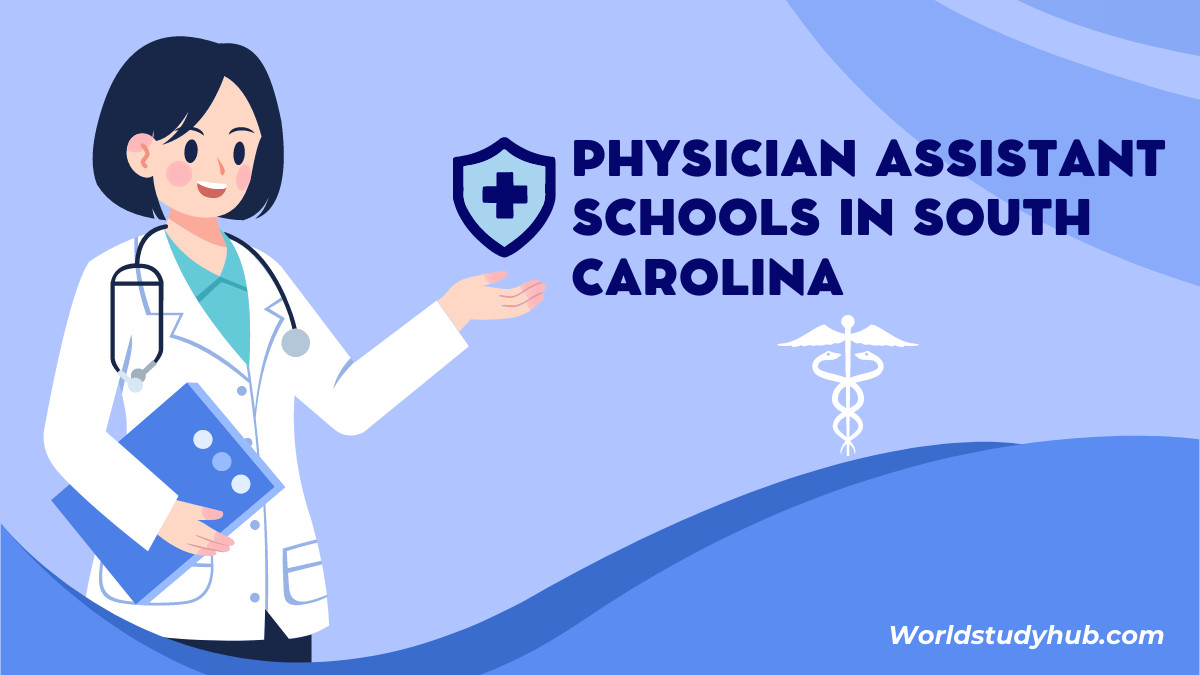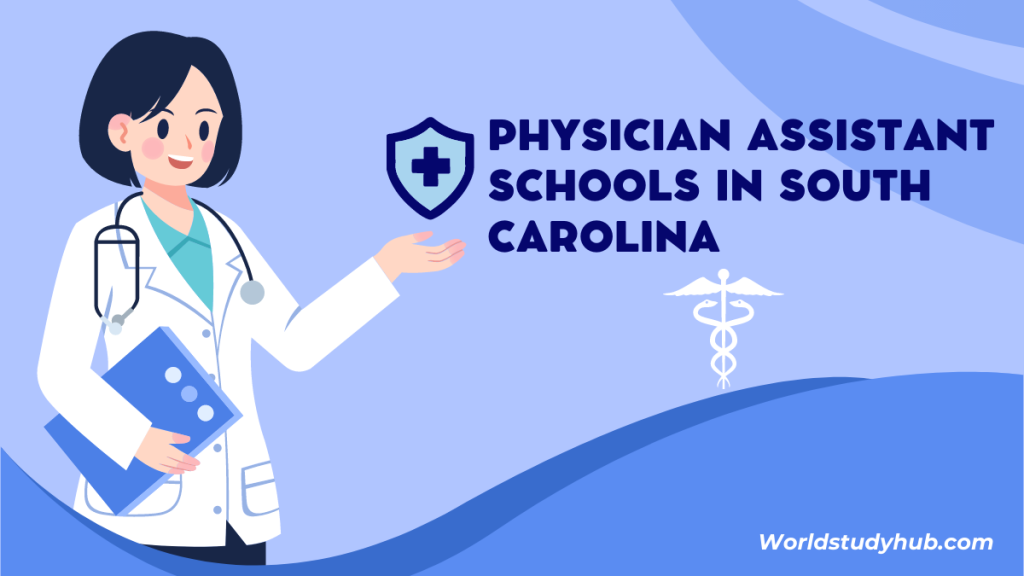 Conclusion
Above are some of the physician assistant schools in South Carolina that might suit your interest, make sure you visit any of the above schools that you think will serve you better to find out more valuable pieces of information.