This article is written to shade more light, on the top best free universities in Sweden.
On average, you can expect to pay 8,824.05 Swedish Krona per month, to live in a frosty utopia and that is not including your rent, it is expensive to study in Sweden.
Sweden is a country located on the Scandinavian Peninsula in northern Europe, the name Sweden was derived from the Svear, or Suiones, while Stockholm has been its capital since 1523.
National in Sweden has the opportunity to get free higher education. but the tuition-free rules also cover students who are citizens of Switzerland, Nordic countries, and EU or EEA countries, given that Sweden is a member of the EU. but when it comes to Ph.D. programs, it is free for all students regardless of nationality.
Sweden inhabits the bigger part of the Scandinavian Peninsula, which it shares with Norway, just like all of north-western Europe, Sweden generally has a favorable climate relative to its northern latitude owing to moderate south-western gusts and warm North Atlantic currents.
Don't be discouraged, though. If you are on a tight budget, consider tuition-free universities. International students from the European Economic Area (EEA), European Union (EU), and those with a permanent Swedish residence permit do not pay for tuition at Swedish universities. For those outside these countries, tuition range from US$9,000 to US$17,000, still far cheaper than tuition fees in the UK and the US, there are also cheap universities in Canada.
Sweden has a thousand-year continual record as a sovereign state, although its territorial expanse changed often, until the year 1809, however currently it's a constitutional monarchy with a well-established parliamentary democracy that dates from 1917.
Sweden has risen from backwardness and deprivation into a post-industrial society. It has an advanced welfare state with a suitable standard of living and life expectancy that ranks among the highest in the world.
Reasons Why You Should Study In Sweden:
No Language Barrier:
The official language of Sweden is Swedish, as of 2017 Swedes ranked second in the world for skills in English as a second language, As the world becomes increasingly connected and businesses seek further on than national and morphological boundaries, Sweden offers and a magnificent location to learn and evolve your English language skills.
However, a study abroad involvement in Sweden would also be the greatest opportunity to learn some Swedish as well. Spoken by nearly ten million people, the Swedish language shares many similitudes to English, and by knowing some, it will be that much more unchallenging to plunge into your new ethnic environment.
Thriving Student Life:
Sweden has a fascinating and eccentric student life that has marinated centuries of tradition. Sweden's substantial student population can be found in the cities of Uppsala and Lund, where student empires, organizations specifically responsible for organizing student events, are bountiful. each empire has its own vibe and new international students get the opportunity to meet and socialize with Swedish and other international students alike.
In addition, students in Sweden are dispensed with a bountiful and varied culture to plunge themselves into.
A Rich History:
From the Vikings to Abba, Sweden has contributed a lot to history books, and Swedes are not shy about celebrating them. Through numerous museums and festivals, the historical highlights of Sweden are accessible and championed throughout Sweden and are a joy to behold.
Furthermore, many museums offer free entrance on a regular basis or on specially marked days throughout the year. If there is a fee, there is typically a steep discount for students. Depending on your area of study, some students also get passes to enter many of the museums for free. By the time you leave Sweden, you will be amazed how the land of Vikings has become one of the most peaceful and fair societies in the modern world
Home To International Business:
For students who seek an internship or work experience, look no further than one of Sweden's many internationally-renowned businesses. Students will find the head offices of companies like H&M and Spotify in Stockholm. Or if you find yourself studying on Sweden's west coast, You may be interested in gaining experience at Volvos head office in Gothenburg.
Unlike many other countries, Sweden does not impose any official limitations on how many hours a student can work. Therefore, it is much easier for students to find job prospects that turn into lifelong careers.
The Swedish Way Of Life:
Lagom, the Swedish ethos of 'just enough' infiltrates all aspects of life, from their study-life balance to their holidays and traditions. It's no surprise then that Swedish design, made famous by the furniture retailer, IKEA, relies so heavily on minimalism and functionality.
Together, these views on life go far in planning Swedish societies believe in consensus and equality.
As an international student, you will find life in Sweden to be incredibly structured in some ways and very flexible in others its all part of a work-life balance that values the individual right to Live Happily
Internationally Renowned Education System:
The quality and international standing of the Swedish education system need no explanation, with Universities consistently ranked among the best in the world. The addition of one of its fine institutions would be an excellent addition to any student's academic CV.
Consider choosing Uppsala University, the oldest university in any of the Nordic countries. Or, if making it in the big city is your dream, study abroad in Sweden's capital, Stockholm, at Stockholm University.
A Challenge Worth Taking:
No matter the destination, studying abroad can be difficult at times. However, the benefits of studying abroad in Sweden are guaranteed to make the challenge well worth your while.
As an international student in Sweden, you can expect to be treated equally and with fairness. You will also find that the system is set up to help you succeed in accomplishing your dreams, as long as you're willing to put in the effort. And although challenging at times, all of the aforementioned points go far to explain why your study abroad in Sweden will easily be one of the best experiences in your life.
List Of Best Free Universities In Sweden
Sweden is a member of the Europe Union and there are national tuition rules pertaining to citizens of other EU or EEA countries.
The following universities are most likely to fall into public or state universities, making them cheap, affordable, and even free for both national and international students.
Below Is A List Of The Best Free Universities In Sweden:
Halmstad University
University of Borås
Örebro University
Mälardalen University
Swedish University Of Agricultural Science
Linköping University
Jönköping University
Malmö University
Linnaeus University
Karlstad University
#1. University of Skövde
The University of Skövde is one of the best universities in Sweden, It's a state university in Skövde, Sweden.
The University of Sweden has approximately 9,000 students, 524 administrative staff, and 310 academy staff
The university of Sweden is one of the best universities in Sweden, its a modern and welcoming university, with first-class education and internationally competitive research, ever since its inception in 1977 this institution has aimed for excellence, every decision, and achievement has emerged a focus on creating excellent and well-known educations and research specializations that make a difference to reality.
It was awarded university status in 1983 and is currently an academic institution with general and specialized educational programs. These programs involve; Health, Computer Game Design, Biomedicine, and Business.
This institute has five faculties, eight departments, notable alumni, several research centers, and several rankings.
However, education, research, and Ph.D. training at this university are divided into four schools; Business, Bioscience, Engineering Science, Informatics, Health, and Education.
#2. Halmstad University
Halmstad University is a public university in Halmstad, Sweden, It was established in 1983, and this institution has an estimated 11,500 students, 211 administrative staff, and 365 academic staff, it has four faculties and several departments.
Halmstad University is an educational institution offering bachelor's and master's programs in various fields of study. In addition, it conducts Ph.D. programs in three fields of research, namely, Information Technology, Innovation Science and Health, and Lifestyle.
Halmstad University is often called the Innovation Driven University. it conducts education and research in a broad field, three profile areas are prominent:  Innovation Sciences, Information Technology and Health, and Lifestyle. These areas make a base for the University's activities and it is also in these that the University offers education on a postgraduate level.
#3. University of Borås
The University of Borås (UB) is one of the best free universities in Sweden, previously known as  Högskolan I Borås, is a Swedish University located in the city of Borås, it was in 1977and as of 2021 has 18,300 students and 803 staff, the Swedish school library and information science and Swedish school of textiles is all part of the universities.
Furthermore, it has 4 faculties and several departments. This Institute offers the following courses; Library and Information Science, Business and Informatics, Fashion and Textile Studies, Behavioural and Education Sciences, Engineering and Health Sciences, and Police Work. Etc
#4. Örebro University
Örebro University is a state university located in Örebro, Sweden. The university has its roots in the Örebro campus of Uppsala University, which became an independent state university college in 1977, Örebro University College, .
This university has 3 faculties, distributed into 7 departments. It has 17,000 students and 1,100 administrative staff. However, it was established in 1977 and became a full university in 1999.
Nevertheless, it has notable alumni and several rankings.
#5. Mälardalen University
Mälardalen University or MDU is a Swedish University college located in Västerås and Eskilstuna Sweden and is one of the best free universities in Sweden, it has 16,000 students and 1000 employees of which 91 are professors, 504 teachers, and 215 doctoral students.
However, Mälardalen University is the nation's first environmentally certified college according to international standards
Although, this University has six different research specializations varying from; education, science, and management. Etc.
This University has 4 faculties, divided into several apartments.
#6. Swedish University Of Agricultural Science

The Swedish University of Agricultural Sciences or Swedish Agricultural University is a university in Sweden and is one of the best free universities in Sweden. Although its head office is located in Ultuna, Uppsala, the university has several campuses in different parts of Sweden, the other main facilities being Alnarp in Lomma Municipality, Skara, and Umeå.
Unlike other state-owned universities in Sweden, it is funded through the budget of the Ministry for Rural Affairs.
This Institute has a good number of 4,435 students, 1,602 academic staff, and 1,459 administrative staff. It has 4 faculties, several notable alumni, and rankings, ranging from national to global.
#7. Linköping University
Linköping University is a public research university based in Linköping, Sweden, and is one the best free universities in Sweden. Originally established in 1969, it was granted full university status in 1975 and is one of Sweden's largest academic institutions.
Linköping University has an estimated 32,000 students and 4,000 staff, it has 12 large departments which combine knowledge from several disciplines that often belong to more than one faculty.
Linköping University emphasizes gaining inert knowledge and research. It has several rankings varying from national to global.
#8. Malmö University
Malmö University is a public university located in Malmö, Sweden, and is one of the best free universities in Sweden, it has a population of 24,000 students and about 1,600 employees, Malmö University is the ninth largest institute of learning in Sweden.
It has exchange agreements with more than 240 partner universities around the world and roughly a third of the students have an international background. Education at Malmö University focuses on, among other things, migration, international relations, political science, sustainability, urban studies, and new media and technology. It often includes elements of internship and project work in close cooperation with external partners.
This Institute has 5 faculties and several departments.
#9. Linnaeus university
Linnaeus university is a state university located in the Swedish historical province of smaland, its also one of the best free universities in Sweden, It has two campuses located at vaxjo and kalmar respectively this university was established in 2010 by a merger of former vaxjo university and kalmar university and is named in honor of the Swedish botanist named Carl Linnaeus.
It has over 15,000 students and 2,000 staff. it has six faculties and several departments, ranging from science to business.
However, this university has several alumni, and it is one of the best free universities in Sweden
#10. Karlstad university
This is one of the best universities in Sweden, it has about forty educational programs and thirty program extensions, nine hundred courses within health care, art, social studies, humanities, science, technology, and teaching.
Furthermore, this campus became an independent university college in 1977 which was granted full university status in 1999 by the government of Sweden.
It has three faculties and several departments, it also has 16,000 students and 1,200 employees it has a university press named Karlstad university press.
Who Can Study In Sweden For Free?
Studying in Sweden is free of charge for citizens of the EU/EEA and those with permanent Swedish residence permits. Others may have to pay tuition fees that commonly range between 80,000 and 140,000 SEK per year – ca. 8,000 to 15,000 EUR, or 9,000 to 17,000 USD
Can I Study Swedish In Sweden For Free?
You can study the Swedish language in Sweden for free most universities in Sweden are public and bachelor's and master's programs are free for EU/EEA and Switzerland citizens. As for Ph.D. programs, they are free for all students, regardless of their country of origin.
Is A Master's Degree Free In Sweden?
A Master's degree is free in Sweden if you are from European Union (EU) or European Economic Area(EEA). Students from other countries will have to pay an application fee of €81 as well as tuition fees.
How Expensive Is It To Live In Swedish Universities?
Average student living costs in Sweden
Living costs for students in Sweden are above the European average. You should expect to spend between 700 – 1,200 EUR/month.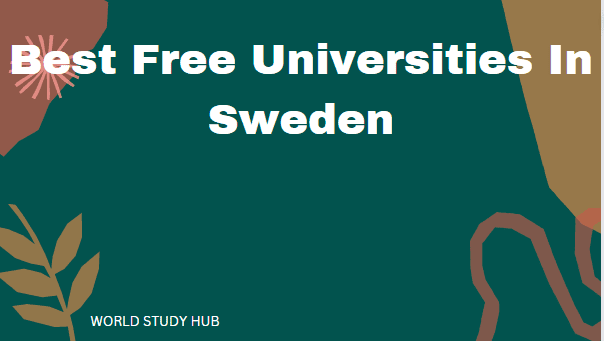 Conclusion
It Is Crucial To Bear In Mind That The List Provided Above May Not Be All Schools That Are Free In Sweden, It is also important to research and compares schools, to ensure that they align with your personal and professional goals.
Recommendation
Top 20 Cheapest Universities in the USA for International Students 2023
Top 6 Cheapest Universities in the Netherlands 2023
10 Cheapest Universities in Norway Without IELTS – Guide 2023
10 Cheapest Universities in Europe Without IELTS – Guide 2023
Top 6 Cheapest MBA programs in Canada
15 Cheapest Law Schools in California