Cheapest MBA programs in Canada
Welcome to Worldstudyhub.com, we are interested in helping you out. This article will explain everything you need to know about the Master of Business Administration (MBA) and how to apply to the university of your choice as an international student.
Carefully read and follow the guidelines below to find the most cheapest MBA programs in Canada in accordance with the university you can afford.
MBA is an advanced program that focuses on advancing students in the field of business into professional and technical business managers, owners, and business advocates.
Due to the high cost of education, most people are searching for excellent and cheapest MBA programs in Canada to further their business knowledge and get certified in a Master of Business Management, to work proficiently and efficiently in any firm worldwide.
What is an MBA program?
MBA stands for Master of Business Administration, It is a graduate program that helps you to advance your career in management. It is offered in Schools of Business worldwide.
Types of MBA programs
The Wharton School of the University of Pennsylvania was the first to open a school of business in the united states in the year 1881 followed by the Harvard Graduate School of Business Administration established in the year 1908 and these first schools of business adopt the two-year full-time MBA type.
There are currently 6 types of MBA programs in existence and below is a breakdown of the different types of MBA programs available at business schools.
One Year Full-time MBA
This program is for students who want to advance their knowledge in the career they are already on, you will focus on the same core business fundamentals and in most cases specialize throughout your one year.
One-year full-time MBA is usually common in Europe and Asia while a two-year MBA is widely accepted in the United States.
Two-Year Full-time MBA
This is one of the most common MBA programs worldwide, especially in US business schools. Top-ranked business schools in the US like Havard Business School and Stanford Graduate school of business adopt the two-year full-time MBA program type.
A two-year full-time MBA will help you to develop your fundamental business skills, it will cover your root course subjects and also offers several benefits like gaining practical experience and an opportunity to venture on a summer internship between years one and two.
It can possibly gain you full-time job offers after graduation and you will be opportune to build strong relationships with coursemates.
Part-time MBA
This program allows you to study at your own pace, it usually takes 2 to five years or even more to complete. It is mainly for the working class who doesn't have much time at their disposal.
You are allowed to join weekly programs taught in the evening or at weekends and complete your programs anytime that suits you.
Online MBA
Students are allowed to study from their homes and it covers the same programs offered by physical students by the same faculty.
The beneficial aspect is that you are learning from a comfort zone and can complete your classes at your convenient time just like part-time students.
International/Global MBA
This program offers the same courses as the full-time or part-time MBA programs and same time builds you on international business management and trends.
It can help you to connect with fellow students from across the globe and you will secure a job opportunity anywhere in the world after graduation.
Executive MBA
EMBA program is usually for people who want to further their leadership roles, and it requires a minimum of five years of work experience before applying.
Executive MBA (EMBA) is taught part-time in the evening or on weekends which allows students to work and study at the same time and it is usually common for companies to sponsor EMBA students.
These programs are often taught over a fixed period of two years and their courses always focus on business and management skills.
Careers in MBA
MBA prepares one for different careers but below is the list of most of the jobs available to you as an MBA graduate.
Marketing Consultant
Investment banker
Entrepreneur/founder
Project analyst or strategist
Operations analyst, associate, or manager
Managing Director (of a department)
Business analyst or strategist
Business development analyst, associate, or manager
Market research analyst
Management consultant
Program analyst, associate, or manager
Financial analysts, associates, or manager
Healthcare administrator, analyst, or manager
Product analyst, associate, or manager
Portfolio manager
10 cheapest MBA programs in Canada
The following school below does not only offer the cheapest MBA programs in Canada, but they are also among the best business schools in Canada.
Wilfrid University School of Business, Toronto Campus MBA Program
Lazaridis School of Business and Economics is a business school at Wilfrid Laurier University campus in Toronto. It is accredited by the AACSB which is regarded as the highest standard of achievement for business schools worldwide.
They have four delivery options, full-time, full-time + Co-op, part-time evenings, and accelerated part-time evenings. the part-time program is scheduled for workers who wish to pursue their MBA while maintaining their careers.
There are only nine areas of specialization in the Lazaridis MBA, they include accounting, entrepreneurship, financial management, marketing, operations management, supply chain management, strategic management, organizational behaviour and human resources management, and international business management.
The full-time + Co-op is the best choice for you and GMAT is mandatory for both international and domestic students with a minimum score of 600 or GRE which is equivalent to a minimum of 600 scores when converted to GMAT.
A minimum score of 7.0 on the International English Language Testing System (IELTS) is required from students whose degrees were conferred by a non-English language institution.
This school of business is among the best schools that offer the cheapest MBA programs in Canada.
Graduate Scholarships/Awards at Lazaridis school of business & economics.
The following scholarships are available at Wilfrid Laurier University MBA;
Lazaridis MBA Technology Scholarship: $1,000 – $20,000
Mcneil Consumer Products Scholarship: $1,500
Howard Teall Award for Students Excellence: $3,000
Gerdau Ameristeel Technology Award: $1,900
Robert Breadner Entrepreneurial Fund: $2,000
Entrance Scholarships: $500 – $3,000
Nissan Canada Award: $3,000
Pfizer MBA Award: $1,000
Ross and Doris Dixon MBA Scholarship: $3,500
Walter and Jean Hachborn Award of Distinction: $5,000
Canadian Hardware and Home Improvement show MBA Scholarship: $2,000
Note that many organizations are available for international student loans, fellowships, and scholarships for students from foreign countries who wish to study in Canada, and one of the cheapest MBA programs in Canada.
NAFSA
International Student Loans
Lazaridis School of Business & Economics tuition fees
Full-time for domestic students is $29,807.37 yearly
Full-time for international students is $49,738.89 yearly
Part-time tuition is $29,814.40 yearly
Part-time accelerated tuition is $17,888.64 yearly
Co-op tuition is $2, 337.45 yearly
Visit the school website for more information
University of Manitoba MBA Asper School of Business MBA
Asper School of Business was established in 1968. It is accredited by AACSB in 1999, their programs consist of 30 credit hours of business fundamentals and strategy and other accreditable qualities.
Their full-time program type takes 12 months or two years while their part-time takes up to six years to complete in some cases 3 years.
One of the following English Language proficiency test results is required, AEPUCE, IELTS, TOEFL-iBT, PTE, PTE Academic, and CanTEST.
A minimum GMAT score of 550 or an equivalent GRE score of 500 is required, there is a provision for GMAT exemption available to applicants who score up to 3.3 on a 4.5 scale with an admission GPA if you qualify for GMAT exemption your GMAT/GRE will be replaced with an interview process and it is among the school that offer the cheapest MBA  programs in Canada.
University of Manitoba Asper School of Business MBA tuition fees
Domestic total tuition: $35,300.
International total tuition: $48,300, differential fees included.
Visit the school website for more information.
University of Alberta MBA Program
The MBA at the University of Alberta is one that builds and equips you with the knowledge that will lead you to career advancement.
Their MBA  programs are n of the following types, Full-time MBA, FastTrack MBA, Part-time MBA, Executive MBA (MBA), Online MBA, and master of accounting program.
Requirements:
Transcripts and Degree Certificate
Resume
GMAT or GRE Score
Statement of Intent
Letters of Reference
English Language Proficiency
The full-time program gives you to combine Degrees, the degrees you can combine with MBA include the following;
MD/MBA
MBA/JD
MBA/PHARM
MBA/MLIS
MBA/MEng
MBA/ MAg
MBA / Master of Forestry
MBA / MScPT
MBA / MScOT
Tuition fees
Canadian Students: $6,100
International Students: $ 20,000
Visit the school website for more information.
The University of British Columbia Sauder School of Business
Sauder School of Business is the UBC business school and it offers a 16th-month full-time MBA. They have four unique career tracks for their students both international and domestic students.
The University of British Columbia is a member of the Global Network for Advanced Management (GNAM) and it is the only Canadian school that is a member of GNAM.
UBC MBA program is spearheaded by the Yale School of Management and the network widens international students' experience during their education and provides room for dual degree options with Yale School of Management.
The school accepts GMAT/GRE, 550 GMAT with at least 50th percentile in the quantitative and verbal section of the test, 155 GRE score on both verbal and quantitative sections of the test, For a competitive edge, 650+ GMAT or 330+ GRE score on combined verbal and quantitative sections.
GMAT/GRE Waiver is also available for both international and domestic applicants but to be eligible for a waiver, you must meet the school requirements.
One of the following is required for your English Proficiency, TOEFL, IELTS, PTE, or CAEL, applicants will take one of the following tests.
University of British Columbia MBA tuition fee
 Canadian student tuition: $51,415 CAD
International student tuition: $90,056 CAD
Visit the School website for more information.
Memorial University of Newfoundland MBA
The Memorial University was the first school of business to be accredited in Atlantic Canada by AASCB and also the first to require a course in business ethics.
Memorial requires a GMAT minimum score of 550 or an acceptable GRE with a minimum score of 302 for all applicants
Full-time students and international students are admitted for the fall semester only while part-time students are allowed to enter the program in the fall, winter, or spring semesters.
Memorial MBA program is made up of 20 courses that are either completed on a part-time or full-time basis and all the courses are offered on campus in St.John's, they don't offer online courses.
The memorial university is among the universities that offer the cheapest MBA programs in Canada.
Memorial University MBA tuition fees
Newfoundland and Labrador student's tuition
Full-time: $5,718.00 over 2 years
Part-time: $5,715.00 over 3 years
Canadian students tuition
Full-time: $7,434.00 over 2 years
Part-time: $7,434.00 over 3 years
International students tuition
Full-time: $9,666.00 over 2 years.
Visit the school website for more information.
Laval University MBA Program
Laval University MBA is for students who have a bachelor's degree or any equivalent. They offer both full-time and part-time and all the courses are taught in French, Spanish and English language.
And they offer some courses online which enable students to set a study schedule that allows them to study at their own convenient time and complete the program at their own pace.
To be eligible, you must acquire at least 60% in the English language which is 27 credits out of 45 and the full-time studies is 2 years.
Laval University tuition fees for domestic and international students
Québec students: $3,187.44 Annually.
Non-Québec resident: $7,933.92 Annually.
International students: $17,935.92 Annually.
Visit the school Website for more information
CONCLUSION
To get admission to any of the business schools that offer the cheapest MBA programs in Canada, you will have to work hard to pass the school's requirements and GMAT/GRE test scores and also pass your IELTS or any other English Language Proficiency test.
Carefully follow access to the school websites by clicking on the "website" in red color at the bottom end of every list above.
Please do well to drop your questions in the comment box and also tag worldstudyhub.com for a quick review of your questions.
Canada is the best option for you to advance your career as an international student.
---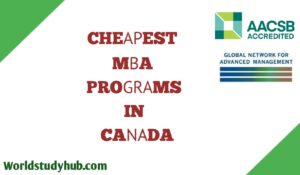 ---
ALSO, SEE;