In this article World Study Hub will provide you with the top and best cheapest university in Canada without IELTS, Please make sure you read the requirements carefully before you apply.
The cost of a university education is a significant expense for all students, parents, and families. It's important to figure out how much you can afford before you apply to a school because higher tuition can set back your plans if you don't have the amount of money required.
There are many ways to get an estimate of what your tuition will be at a Canadian university without IELTS. You want to go to university and start saving money now, but you don't want to pay for the IELTS.
There are a lot of universities that offer cheap tuition without IELTS, but which ones are worth your time? We've got all the information you need to save money on your education so that you won't encounter any set back during your studies in Canada.
The best way to find out what it will cost is by looking at a few different universities in Canada that are similar to where you want to go. You can then compare those costs with what other schools offer so that you can make an informed decision about what school is right for you.
After each university please click the provided link to visit the school's official website for clearer guidelines.
10 Cheapest University in Canada Without IELTS
#1.  Newfoundland and Labrador's University
The Memorial University of Newfoundland is to be one of the cheapest university in Canada without IELTS, This institution is also one of the biggest in Atlantic Canada.
This University has seen a surge of students who come from different parts of the world due to their low and affordable tuition fees, and also this university also offers hot and popular courses like; Bachelor of Nursing, Certificate of Public Policy, Graduate Diploma Philosophy, MSc Computer Science, and MEng Mechanical Engineering.
The Memorial University of Newfoundland is located in Newfoundland Canada, it ranks as the 24th best Canadian University and also 439th in the world ranking.
Tuition Fees for international students:

Range: $3,200 – $11,400.
#2.  Carleton University
Based on research and news Carleton University appears to be one of the cheapest institutions in Canada for international students to study without IELTS.
Carleton is known to be a research and teaching institution that offers different variety of courses. For you to be able to study in this college you must have proof that shows that you have completed 3years of study in high school or university in any country with English as a primary language.
Tuition fee for international students:
Range $7,400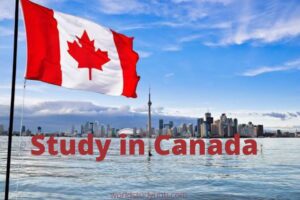 #3.  Concordia University
For you to be admitted to this university you must not be good at English as it is going to be one of the requirements to be considered for your qualification.
And also Concordia University is one of the cheapest institutions that can be found in Canada for international students.
This University will like to know about your formal educational life as they will as you to provide proof that shows you have completed 4years of study with English being the primary language at the secondary or tertiary institution.
Tuition fee for international students:
Range $12,600 – $21,150
#4.  McGill University
McGill University is among the best and cheapest universities in Canada that also accepts international students.
The institution is also among the universities without Ilets that can be found in Canada, as of today the institution ranks 33 in the world rankings.
McGill offers different varieties of interesting courses that will be of many students' interest such as Arts courses, Science courses, Medical courses, Management courses, and also engineering courses.
Tuition fee for international students:
Range $25,300
#5.  University of Ottawa
The University of Ottawa is a public research university located in Ottawa, Ontario, Canada.
It was established in 1848 as King's College, the first institution of higher learning in British North America to be named after George III, who reigned at the time.
The school received its current name in 1905 when it was elevated to university status under the name The University of Ottawa.
Tuition fee for International Students:
Range $22,000
#6.  University of Saskatchewan
This is one of the best institutions among all the cheapest university in Canada without IELTS, this institution focuses on the value that they pass to their students.
The university offers more than 300 programs in 11 faculties, including the College of Health Sciences, College of Architecture and Landscape Architecture, College of Arts and Science, College of Agriculture, Food and Environmental Sciences, College of Computing & Software Engineering, College of Humanities and Social Sciences, College of Physical & Health Sciences, School of Graduate Studies, School of Medicine and Dentistry and the University Hospital.
Tuition fee for International Students:
Range $3,400
#7.  University of Regina
The University of Regina is another good university that accepts IELTS and also accepts other scores from many different tests such as CAEL, TOEFL iBT, PTE, CanTEST, MELAB, TOEFL, UofR ESL, and Duolingo.
It offers undergraduate degrees, graduate degrees, and professional certificates for various fields of study like law, business management, human resources, etc.
The University of Regina also offers online courses through its online learning platform called Canvas.
Tuition fee for International Students:
Range $9,278 – $14,234
#8.  University of Winnipeg
The University of Winnipeg is one of the best universities in Canada without IELTS. The tuition fee for this university is only $4,200, and it includes a living allowance of $1,500 per month. That's a lot less than what most other universities charge.
The University of Winnipeg is in Winnipeg, Manitoba, which is a city with a population of about 700,000 people. It has been ranked as one of the top universities in Canada by Maclean's magazine multiple times.
You can get all your education from this university online or at one of their campuses located across the province. There are two main campuses: The Riverview Campus and the Health Sciences Centre Campus.
Tuition fee for International Students:
Range $14,970
#9.  University of Toronto
The University of Toronto is the oldest in Canada, founded in 1827. It has a student population of over 22,000 students and offers courses at the undergraduate, graduate, and doctoral levels.
The school has international partnerships with more than 50 universities around the world, which gives students access to opportunities outside of Canada. Students also have access to a variety of scholarships and grants that can help offset the cost of tuition.
Tuition fee for International Students:
Range $24,000
#10.  Universite de Saint-Boniface
Universite de Saint-Boniface is a full-fledged university in Canada, which means that it has its own set of courses for students to take.
The University offers courses on many different subjects and has a wide range of programs for students to choose from.
Universite de Saint-Boniface is a Canadian university located in Winnipeg. It was founded in 1874, making it one of the oldest universities in Canada.
Tuition fee for International Students:
Range $8,700
Cheapest Universities in Canada with No Application Fee
Here are 50 of the cheapest universities in Canada with no application fee, along with their address, tuition fee, and website link:
1. Algoma University
2. Athabasca University
3. Bishop's University
4. Brandon University
5. Brescia University College
6. Canadian Mennonite University
7. Cape Breton University
8. Conrad Grebel University College
9. Crandall University
10. Dominican University College
11. Emily Carr University of Art + Design
12. First Nations University of Canada
13. Huron University College
14. Institut national de la recherche scientifique (INRS)
15. Kwantlen Polytechnic University
16. Lakehead University
17. Laurentian University
18. Luther College
19. MacEwan University
20. Mount Allison University
21. Mount Royal University
22. Nipissing University
23. Northwest Baptist Seminary
---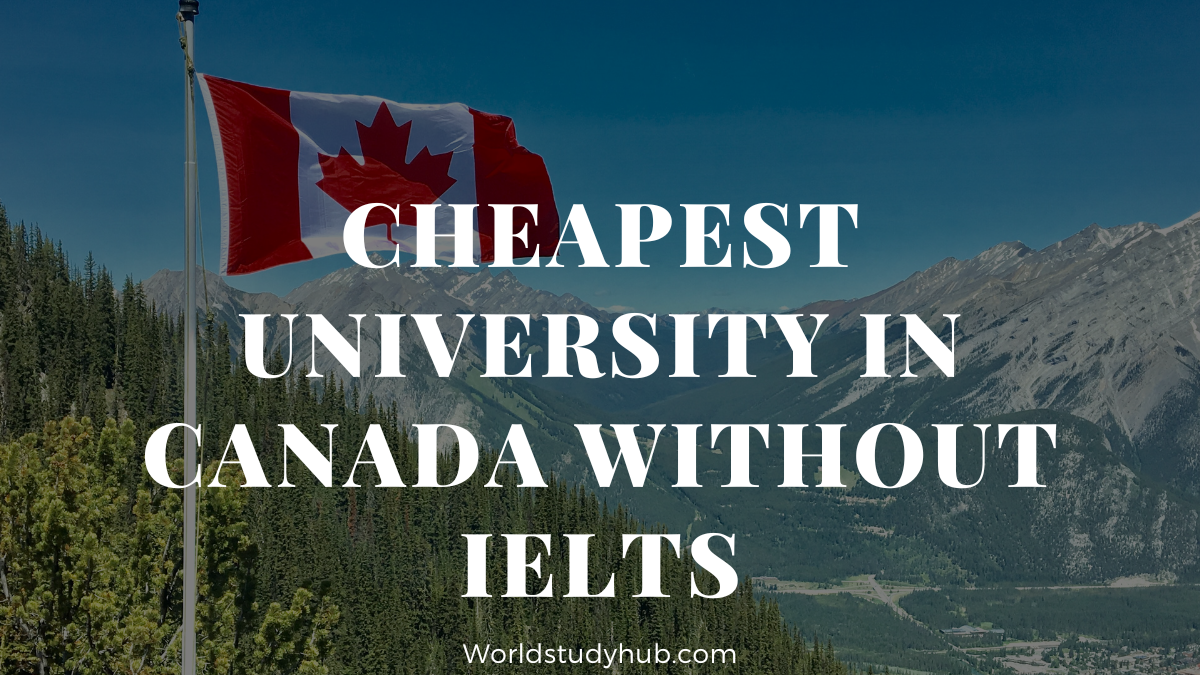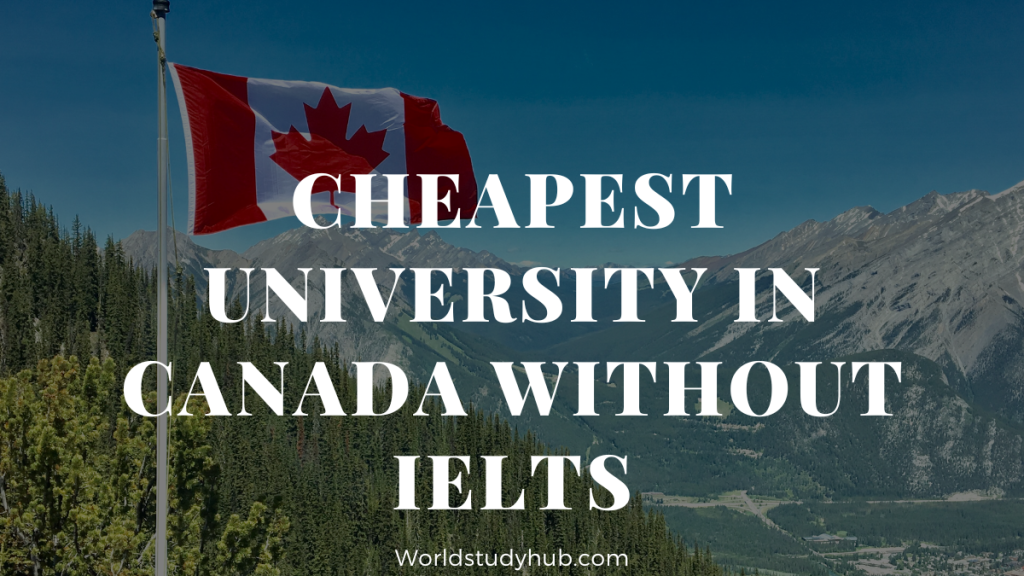 ---
Conclusion
The cheapest university in Canada without IELTS. If you're looking for a great education, and your budget is limited, these schools should be at the top of your list.
Thanks for visiting, worldstudyhub appreciates your presence.
Recommendations