Are you an international student who wants to study at one of Canada's best low-tuition universities?
In this article, you will find the low tuition universities in Canada for both domestic and international students.
You will agree that education is costly in foreign countries and it is difficult to afford their tuition rates and obtain a certificate.
Search no more, as worldstudyhub brings to you the best Canadian universities affordable to students from average backgrounds who wish to further their studies in Canada.
As we all know Canada is home of study with the highest number of cheap schools for international students.
Canada is diverse in religion, and ethnicity, with millions of people from different backgrounds.
Canada is the number one best country for quality education and is open to international students globally. Studying in Canada leads to a future and a career.
Whether you start on their big campus or small campus, you will still get access to their multicultural diversity, wide-open spaces, and superb quality of life.
Read below as I bring to you the list of the 11 best low-tuition universities in Canada.
The Memorial University of Newfoundland is the cheapest among all the universities in Canada due to its yearly tuition fee which is 11,460 CAD/year.
University of Regina- tuition fee=20,050 CAD/year
The University of Saskatchewan- tuition fee=24,000 CAD/year
Royal Road University- tuition fee=27,600 CAD/year.
List of Top 10 LOW TUITION UNIVERSITIES IN CANADA
Below is the detailed list of the top 11 low tuition universities in Canada, After going through it you can make a choice that you won't regret.
Wilfrid Laurier University
Vancouver Island University
Laurentian University
Thompson Rivers University
Canadian Mennonite University
University of Toronto
University of Guelph
Brandan University
Ambrose University
University of Alberta
#1. Wilfrid Laurier University
Formerly known as Waterloo Lutheran University, and changed into Wilfrid Laurier University in the year 1973 with the most prominent business degree co-op program in Canada.
Laurier is 109 years old and undergoes exchange programs with 24 countries, the university has 6 campuses and locations, 9 faculties, 4 fully online undergraduate degrees, 3 fully online graduate degrees, and 100+ courses taught in active learning classrooms, with about 20,000 students.
Laurier upon being one of the low tuition universities in Canada still upholds a strong mission to be devoted to excellence in research, learning, scholarship, and creativity.
Laurier advances knowledge, supports and enhances quality education, and also develops its students with a vision to ignite the minds, hearts, and spirits of the whole community.
Laurier has achieved a lot as a university which has made it rank so many times, it ranked No. 1 most sustainable campus in Ontario in the year 2017, No. 1 in satisfaction with the decision to attend Laurier in 2020, 2019, 2018, 2017, No. 1 in the national ranking of course instructor in 2020 and so many other national remarkable rankings too numerous to mention.
Tuition fee: $6,744-$9,625.
Check the school website for more info…
#2. Vancouver Island University
VIU is a public university in Nanaimo founded in 1969, This university provides academic support to its students through academic advising, Career service, counseling services, and peer support.
Vancouver University class is small in size but accommodating and well furnished to enable a conducive learning environment for both international and domestic students.
VIU has about 14,500 students, and 2,000 international students from 93 countries, offers over 120 programs and it is among the low tuition universities in Canada.
VIU has 8 faculties four campuses namely, the Cowichan campus, Nanaimo Campus, Powell River Campus, and Parksville. Qualicum Centers.
Tuition fee: $9,614 per semester.
Vancouver Island University faculties
Faculty of Academic and Career Preparation
Faculty of Arts and Humanities
Faculty of Education
Faculty of Health and Human Services
Faculty of Management
Faculty of Science and Technology
Faculty of Social Sciences
Faculty of Trades and Applied Technology.
#3. Laurentian University
A public University was founded in 1960 in Greater Sudbury, Ontario, Canada. This university is a bilingual and tricultural institution that upholds a strong Francophone focus.
Laurentian has six faculties, faculty of Arts, Faculty of Education, Faculty of Health, Faculty of Management, Faculty of Medicine, Faculty of Science, Engineering, and Architecture.
Laurentian offers undergraduate level, graduate level, and doctorate degrees, with 26 online degree programs with about 350 courses, these online programs allow students to learn on their schedule.
The university offers a certificate in Bilingualism to students who accumulate a minimum of 15 credits in courses offered in French and English and the certificate helps students to secure a job.
Laurentian university is the most extensive bilingual provider of distance education in Canada and among the low tuition universities in Canada.
Tuition fees: $8,540 for domestic students, $27,500 for international students.
#4. Thompson Rivers University
This university is a public university in Kamloops, British Columbia, Canada established in 1970 and accredited by the Northwest Commission on Colleges and Universities(NWCCU).
Thompson Rivers University(TRU) offers undergraduate and graduate programs, they offer 140 on-campus programs, and 60 online programs and admit over 20,000 students annually.
TRU is known for its immense research and teaching capacities with over 400 academic staff who focus on building the students to better careers.
TRU has 31 average classes for academic courses, 1 million + square feet of learning space, over 1000 residential spaces for students, $2.5 million in scholarships, bursaries, and awards for students every year, $6.3 million in external funding for research by students and faculty and over 2000 employees.
Tuition fees: $4,487 for Domestic students and $19,604 for International students.
TRU is among the low tuition universities in Canada with one of the best learning environments in Canada.
Visit the school website for more information.
Memorial University of Newfoundland
Memorial is one of the largest public universities established in September 1925 in Atlantic, Canada with about 19,000 students from 115 countries.
Memorial University offers undergraduate, graduate, post-graduate, and diploma programs across five campuses and multiple online courses and degrees, and offers more than 100-degree programs.
There are about seven faculties at the memorial university, Faculty of Business Administration, Faculty of Engineering and Applied Science, Faculty of Education, Faculty of Medicine, Faculty of Humanities and Social Science, Faculty of Nursing, Faculty of Science, and many schools like the School of Arctic and Subarctic Studies, School of Graduate Studies, School of Music, School of Human Kinetics and Recreation and more.
Memorial is exceptional and Internationally recognized and offers remarkable programs which include the only four-year bachelor of fine arts degree in Atlantic Canada with options in acting or theatre production, Canada's only remotely operated vehicle (ROV) operator program, Canada's first joint degree in music and business, and many more unique attributes.
Memorial offers 750 scholarships to both international and domestic students annually, $9.5 Million in graduate fellowships and scholarships, $1.5 Million in entrance scholarships, 1,600 co-op placements, and internships around the world. 450+ courses online and 50 + Rhodes scholars educated at Memorial.
Tuition fees: $5,179-$13,000 per year.
Visit the school website to learn more
University of Saskatchewan
#5. Canadian Mennonite University
CMU is a comprehensive, liberal arts university located in Winnipeg, Manitoba. It was established in 2000 and offers 3 – 4 year bachelor's and graduate degrees.
CMU was accepted into the Universities Canada in the year 2008, and that enables students degree recognition by other universities/colleges and easy credit transfer.
76% of students in CMU are from Manitoba and 24% of students are from international countries or other parts of Canada.
There are 40 faculty and 50 part-time instructors in the university and 383 amazing scholarships and bursaries available to students.
CMU at the undergraduate level offers, a Bachelor of Arts, Bachelor of Business Administration, Bachelor of Music Therapy, Bachelor of Music, and Bachelor of Science.
At the graduate level, they offer Masters of Business Administration, Masters of Arts in peacebuilding and Collaborative Development, and Graduate of School of Theology and Ministry.
This university is one of the low tuition universities in Canada and accepts that accepts students from different religious backgrounds.
Tuition fees: $6,152.00 for domestic students and $28,608 for international students annually.
Visit the school website for more information.
#6. University of Toronto
U of T as it is called is a public university located in Toronto, Ontario, Canada because surrounding Queen's Park, this university is based on research and was founded by the Royal Charter in the year 1827 as King's College.
The University of Toronto mostly ranks as one of the best universities in Canada with over 60,000 students and offers over 700 undergraduate programs and 200 graduate programs.
U of T has 16 professional areas of study which include, the Faculty of Applied Science and Engineering, Faculty of Arts and Science, Continuing Studies, Faculty of Architecture, Landscape, and Design, Dentistry, Education, Information, Kinesiology and Physical Education, Faculty of Law, Management, Medicine, Music, Nursing, Pharmacy, Public Health, and Social Work.
The University of Toronto is a very good university where the first successful lung transplant and nerve transplant were successfully carried out in the world, U of T is a home of good learning and deep research.
Tuition fees: $6,100-$11,420 for domestic students and $58,160-$62,560 for international students.
Check the school Website to learn more.
#7. University of Guelph
The University of Guelph is an extensive public university in Guelph, Ontario, Canada. It was established in 1964 and is known for its preeminence in arts and science.
U of G as it is called has over 1,500 international students from over 130 countries, 29,000+ undergraduate and graduate students, and a good number of Alumni representing them in over 160 countries.
They engage their students in quality research, Comprehensive learning and also provide a supportive and conducive learning environment for their students.
There is a high tolerance of culture at the University of Guelph, they welcome all students from different religious backgrounds and beliefs.
There are many Colleges at the U of G, which include the College of Arts, College of Biological Science, College of Engineering and Physical Sciences, College of Social and Applied Human Sciences, Ontario Agricultural College, Ontario Veterinary College, and finally Gordon S. Lang School of Business and Economics. It is among the low tuition universities in Canada.
Tuition Fees: Domestic part time is $608.39, full time is $3,045.46-$4,225.26 then international part time is $2,833.38-$3,255.95 then full time is $14,166.90– $16,279.75 (summer)
Visit the School website for more information.
#8. Brandan University
Brandon is a small populated public university in Brandon, Manitoba, Canada established in the year 1890, It is a member of the association of Universities and Colleges of Canada.
Brandon is one of the best schools of liberal arts and science in Canada, and its School of Music ranks as the best in the country regardless of the low population of the school and it is among the low tuition universities in Canada.
There are about 4,000 undergraduate and graduate students at Brandon University and its current campus location was founded on July 13, 1899, that is 9 years after it was established.
The university has five faculties, the Faculty of Arts, Faculty of Education, Faculty of Graduate Studies, Faculty of Science, Faculty of Health Studies, and a school known as the School of Music.
There is respect for culture and religion at Brandon university and they have a long history of commitment to international students, and they offer recognized degrees that help students to obtain employment easily.
Tuition fees: $35,000
Check the school website for more information.
#9. Ambrose University
Ambrose was established in the year 1921 as a Christian liberal arts university in Calgary, Alberta, Canada in the cellar of the Calgary First Church of the Nazarene.
Ambrose University was formed in 2007 by NUC and AUC and the name Ambrose came into existence in 2006 by a process that involves the faculty, alumni, staff, and the students and is located to its current campus in Southwest Calgary in the year 2008.
Ambrose offers many professionals and their programs include the Faculty of Arts and Science, Faculty of Humanities, Faculty of Science, Faculty of Social Science, School of Business, School of Education, School of Ministry, and they also offer Seminary as a graduate program.
Ambrose welcomes students from all religious backgrounds without any form of discrimination among them and they help their students to reach and achieve their academic and career goals in a disciplined manner.
Ambrose has one of the largest private academic libraries in Western Canada with a unique and personal learning environment and enrolls over 920 students annually, it is one of the low tuition universities in Canada.
Tuition Fees: domestic students $441 per credit hour, and International students $661 per credit hour.
Visit the school website to learn more.
#10. University of Alberta
The University of Alberta is among the low tuition universities in Canada also known as UAlberta, it was founded by the first premier of Alberta known as Alexander Cameroon Rutherf0rd in the year 1908 with the help of Henry Marshell Tory, the first president of the university.
UAlberta is located in Edmonton, Alberta, Canada, It is a public university with about 40,000 students, 4,000 academic staff, and 5,000 Administrative staff and comprises five campuses in two cities.
There are three professional colleges at the University of Alberta and offer 200+ undergraduate programs, which include the College of Health Sciences, College of Natural and Applied Sciences, and College of Sciences and Humanities.
This school is top-notch in the field of learning and research and among the top teaching and research universities in Canada, it has an international reputation and has ranked multiple times in the Nation's major rankings.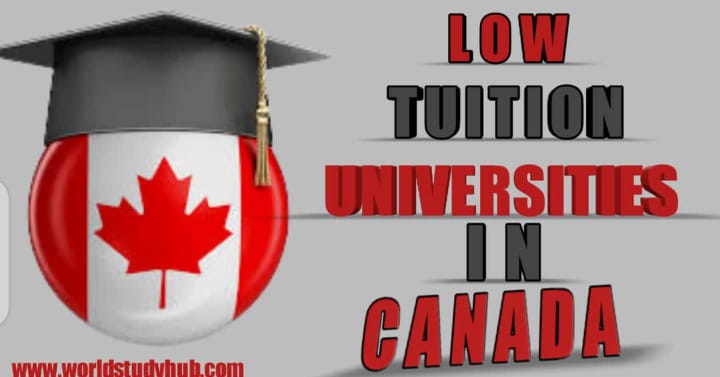 Conclusion
Canada is among the countries that have the best and most affordable universities in the world and they are always open to welcoming international students into their country to acquire knowledge from their noble institutions, learned staff, and qualified professors.
Most of these low tuition universities in Canada are majorly public universities. They are highly competitive because of their high demand in the country. If you want to study at any of the universities mentioned above you have to study and make good grades to stand a better chance of gaining admission into any of the universities of your choice.
Recommendation
10 Best NAIA Schools in Florida Suitable for You.